Over the last couple of years Chinese companies have gone on m&a spree buying assets all over the world. Chinese corporates have acquired everything from real-estate, sport teams to industrial companies. Now fortunes seem to have turned. The economy has turned, higher trade tensions and increased scrutiny from western countries.
In 2017, Chinese appliance maker Midea bought German Robotics and Automation Company KUKA (KU2 GY) for over $5bn. Things have already starting turn negative. On 11th of January KUKA issued a profit warning due to cooling of the economy. WSJ writes;
German industrial robot maker Kuka AG on Friday became the latest German company to warn that China's cooling economy is affecting the company's business. It cited uncertainties in the Chinese automation market as one reason for what it said would be lower-than-anticipated sales and a slimmer profit margin in 2018.
KUKA had to abandon its financial targets for 2020, and plans to cut EUR300m of costs. It appears that the Chinese not only underestimated German resistance of technology transfer, but also that they overpaid for the company. Handelsblatt explains;
The broader worry; meanwhile, behind the scenes, amid performance worries at Kuka, there's the troubling suspicion that the Chinese paid too much.
But Kuka's main problem can be summed up in a single word: China. After the company's controversial takeover – Kuka has been called a pearl of German industry – both Berlin and Brussels tightened regulations on foreign takeovers. The government has new powers to veto deals in sensitive industrial sectors amid national security concerns.
KUKA's share price have dropped more than 50% over the last year.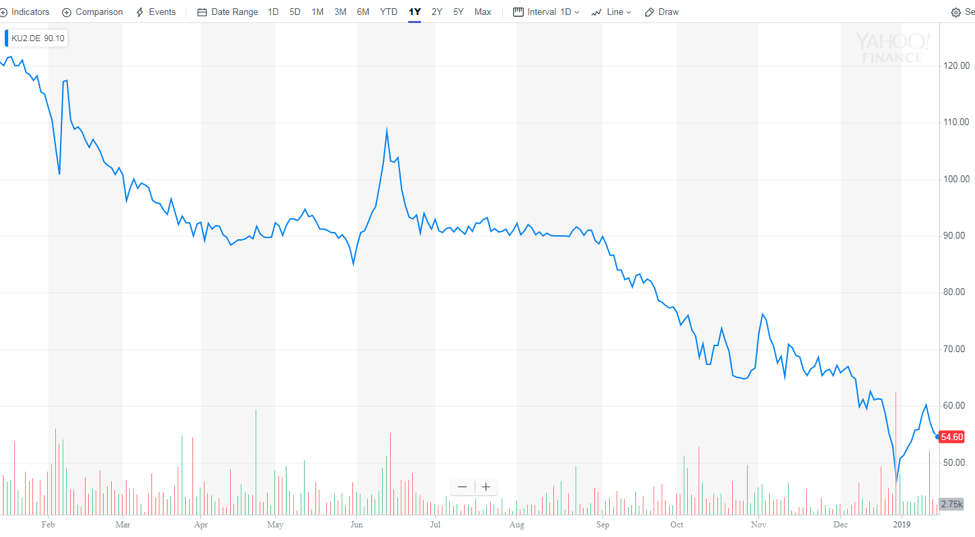 Source: Yahoo Finance
Chinese are not only facing economical problems, but also cultural ones. Since the takeover the Chinese have fired over 6 senior managers at KUKA, most recently the CEO. Recent European (and international) scrutiny on technology and asset transfer out Europe have made things more difficult for the Chinese and their companies.
The Chinese themselves are already noticing this. A report released by Beijing-based Paitron Services and the China Overseas Development Association, a semi-official body under the National Development and Reform Commission notes;
It also said the US and its allies were expected to step up efforts to counter China's growing influence in those countries.
"On the bilateral level, the US will continue to strengthen its trade protectionism, including through its economic 'decoupling' policy to circumvent competition from China and curb China's development," the report said.
"At the same time, it will step up its assault through the 'technology cold war' and introduce even more stringent investment review measures, export controls or extraterritorial jurisdiction tactics to contain China," International resistance against the Chinese and their m&a could not come at a worse time. The Chinese economy is slowing down.Chinese companies with large U.S. denominated debt post acquisitions, cannot do "technology transfer" from acquired companies. This will put further pressure on the firms as one important reason they paid high prices for the targets were to be able to move the technology to China.