The USD has been hammered rather big over past sessions.
The DXY is trading below the 200-day average and is sitting right on the huge 96 level here. Bear in mind, the DXY index has been a boring "asset" trading in a range for some time, so watch the big 96 level very carefully.
The EURUSD 1-month ATM implied volatility has moved higher over past sessions. Levels are still rather depressed, so USD volatility is not "freaking" out about the move so far.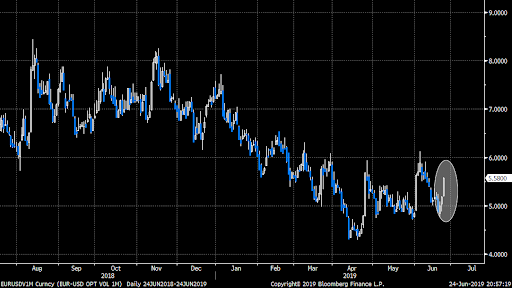 The bigger picture problem with the USD is the fact the Fed is kind of trapped here, and the endgame seems an inevitable weakening of the USD. Maybe that is Trump´s ultimate plan after all as currency wars are heating up.
Below is the chart of Fed (white) and ECB's (orange) balance sheet. Fed is trapped! Be sure to watch the huge 96 level for the possible big break.
Source, charts by Bloomberg