We previously wrote that is makes sense to look at FAANG stocks beyond the daily fluctuations of the stock and the massive run the have had in the last 5 years.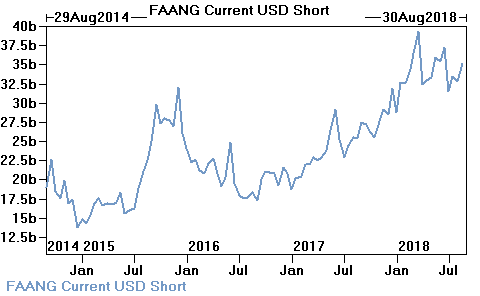 Source: Goldman Sachs
As can be seen above, according to Goldman Sachs, the current short interest (amount of people making a bet stocks will go down) are close to as high as they have been over the last couple of years. The amount is close to $40bn for the FAANG stocks.
Note that a net short stock position at times can be hedges versus options strategies (long call offset with short stocks as one example), so looking purely at short interest is not always accurate, but we still find it an interesting fact FAANGS are so shorted.
Interestingly enough, September tends to be one of the least strong months for stock performance.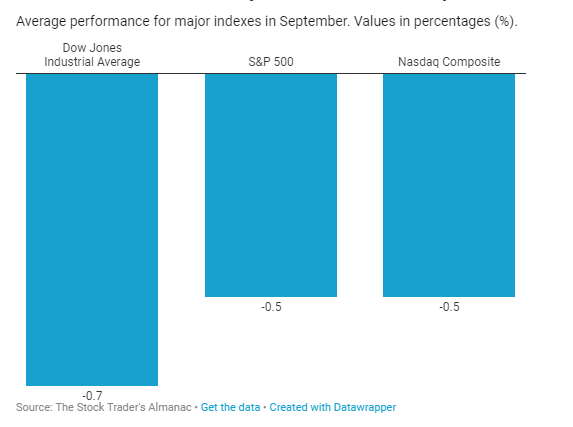 Source:  The Stock Trader's Almanac
September has actually been the worst performing month for Dow Jones Industrial Average since 1950.
"September and October have some pretty bad reputations in the market, but especially September," said Tim Courtney, chief investment officer at Exencial Wealth Advisors"
Source: CNBC
Usually Septembers start on a positive note, but often lose those gains later on the month as earnings season nears. Furthermore, the stock markets tend to do even more poorly in the month of September during midterm elections.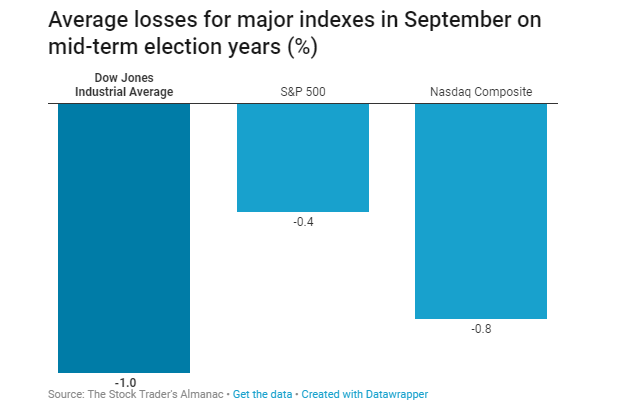 In addition, this year more than usual there are numerous different political and international situations outstanding ( China, Tariffs, Oil, Emerging Markets) which can in addition affect stock market performance.
One cannot though forget, it is often in these type of situations where everyone is positions for potential downturn, when then markets are at highs, that they can keep on going, squeezing even further.