Ethereum (ETH), the crypto currency that has had absolutely disastrous last couple of days is  down more than 30% over the last 7 days. It has like all cryptocurrencies suffered a blood-bath this year, losing almost 90% of its value. This is substantially more than the other big cryptocurrency Bitcoin (BTC) which is "only" down 65%.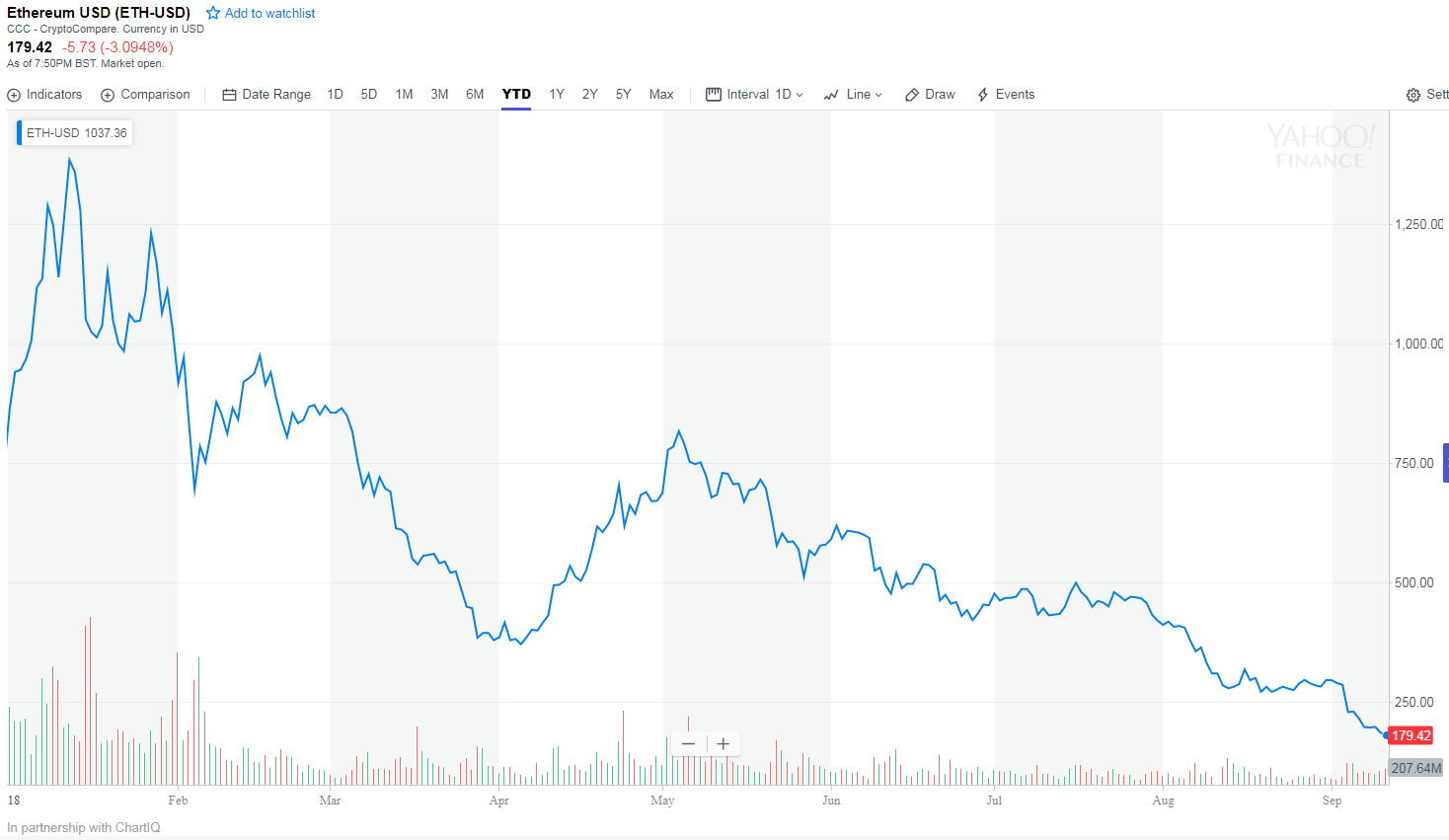 Source: Yahoo Finance
"Ether", the token that is associated with Ethereum Foundation is the preferred platform amongst crypto developers. It has been used as the preferred platform for various companies and parties that has been raising capital through "ICO"s (Initial Coin Offering). With the liquidation of funds raised through ICOs people are selling their Ethereum. As panic begets panic, lot of investors/traders/fundraisers are all rushing to sell.
Furthermore, the fall can be contributed to several other factors – such as a U.S. Judge saying that ICOs are covered by securities law. Bloomberg expands;   
A federal judge has ruled that U.S. securities laws may cover an initial coin offering, handing the government a legal victory in its effort to regulate billions of dollars in cybercurrency offerings much like stocks are.
"Per the indictment, no diamonds or real estate, or any coins, tokens, or currency of any imaginable sort, ever existed — despite promises made to investors to the contrary," Dearie said in his ruling. "Simply labeling an investment opportunity as a 'virtual currency' or 'cryptocurrency' does not transform an investment contract — a security — into a currency."
In addition, recent comments (covered on AskBrokers a few days ago) from Ethereum's founder Vitalik Buterin saying that the days of huge and exponential growth for Ethereum are over. Cointelegraph quotes;
"If you talk to the average educated person at this point, they probably have heard of blockchain at least once. There isn't an opportunity for yet another 1,000-times growth in anything in the space anymore."
Various state of markets can continue for a while, on the other hand, the threat of regulation could potentially be a blessing in disguise as all these assets become more regulated.
This is a segment of the market that most likely have plenty development going forward.