TrendsTurbo is an international online multi-asset broker based in St Vincent and the Grenadines, providing a wide range of tradeable instruments. TrendsTurbo is owned and operated by KMA Group LLC, a registered company in St Vincent and the Grenadines, and serves an international client base. The broker offers trading in a variety of instruments, including forex, stocks, indices, metals and energies, and offers trading via contracts for difference (CFDs), with generous leverage. The firm offers competitive trading conditions and high-quality customer service and uses the world-leading MetaTrader 4 trading platform. Trading is commission-free at this brokerage, with all broker profits coming from the spreads, which are very competitive, especially on the premium accounts. Opening an account online is a quick and easy process, and once completed, you will be able to deposit funds using a choice of payment methods and get started with trading straight away. The platform is very intuitive and easy to navigate, and there is a team of account managers and analysts available to help advise and guide new clients. There is a good choice of account types to suit traders at all different levels, and the Bronze account is highly accessible, with a minimum deposit of just $250 required.
Strengths
Good choice of accounts
MT4 trading
Low minimum deposit
Competitive spreads
Client funds kept in segregated accounts
Weaknesses
No live chat
Limited choice of deposit options
What can you trade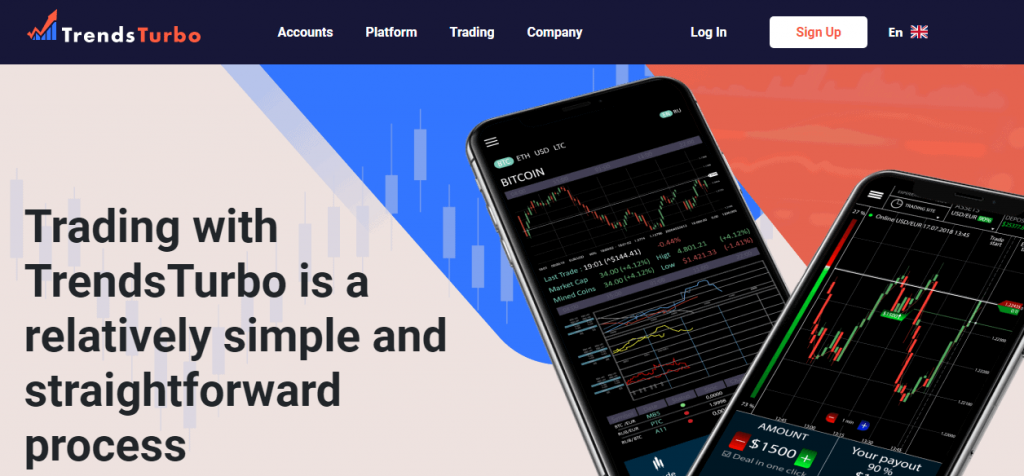 Forex
It is quick and easy to get started with trading forex with TrendsTurbo. There are over 100 currency pairs to choose from, including all the major pairs, plus many minor pairs and a few exotic pairs. You can trade forex at this broker with competitive spreads and leverage of up to 1:400. Leverage will depend on the type of account you hold, the pair you are trading, and local laws and restrictions. The minimum deposit for basic account holders is $250, and the main account currency for all accounts is USD.
CFD
There are many instruments available to trade as CFDs at TrendsTurbo, including forex, single stocks, and indices. Leverage will depend on the instrument you are trading and where you are resident. CFD trading is a form of derivative trading, allowing traders to speculate on the price movement of an asset and potentially profit from that price movement without ever actually owning the underlying asset. It is a complex and high-risk type of trading but can also be very profitable for some traders. There is plenty of information on the TrendsTurbo website about CFD trading, and your account manager can answer any questions you may have.
Stocks
TrendsTurbo offers trading in single stocks and indices, with access to a range of European and worldwide stock exchanges, including the NYSE and the NASDAQ. There are also over a dozen stock indices offered, including the UK 100, USA 500, Europe 50 and Germany 30. An Index is a group of shares that can be traded as a single asset, and most indices are based on either a geographical region or an industry sector, making them a strong indicator of market sentiment in that region or sector. Single stocks and indices can both be traded as CFDs at this broker.
Social Trading
TrendsTurbo uses the MT4 platform, which allows for social trading via Trading Signals and other third-party applications. With MT4 you can use Trading Signals to copy the trades of successful and experienced traders. There are free and commercial signals available, and all signal providers can be found under the Signals tab once logged into the MT4 trading platform.
Cryptocurrency
TrendsTurbo provides clients with the ability to trade Bitcoin and other cryptocurrencies such as Ethereum, Litecoin and Dogecoin. It is possible to trade cryptocurrency pairs, such as ETH/LCT as well as trading fiat currency against cryptocurrencies.
What did our traders think after reviewing the key criteria?
TrendsTurbo Fees
TrendsTurbo trading fees are competitive. No matter which account type you choose, you will be able to trade completely commission-free, with all broker profits taken from the highly competitive spreads. For example, spreads start from 0.1 pips on the Platinum account but rise across the other account types and start from 2.8 pips on the basic Bronze account. Spreads are variable, so will change frequently according to market conditions. Spreads do, of course, vary between different asset classes and between different instruments within those asset classes. Always be aware of spreads currently offered before placing your trades. Order execution is STP, with no requotes, meaning the price you see is generally the price at which your order will be executed.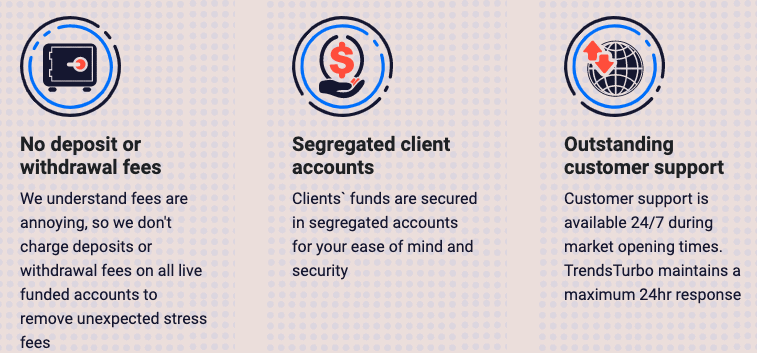 TrendsTurbo never takes a fee or commission on deposits or withdrawals although it is always possible that your bank or card provider might levy a transaction charge, especially if they choose to classify the transfer as a cash transaction. It is vital to note that, as with any broker, fees can change, sometimes at short notice. There may be fees not mentioned in this TrendsTurbo broker review that could apply to your account.
Account types
TrendsTurbo offers four account types to cater to a wide range of clients with different levels of experience and different trading budgets. Beginner traders will probably want to start with the Bronze Account, which requires a minimum investment of $250, and offers spreads starting at 2.8 pips, along with leverage of up to 1:100, which is generally considered more than enough for less-experienced traders. This account offers almost all the same features as other account types, including MT4 trading, but does not offer the Expert Advisors feature, which enables easy automated trading. The Silver Account requires a minimum deposit of $2,000 and offers spreads from 2.5 pips, with leverage capped at 1:200. The Gold Account requires a deposit of $10,000 and offers spreads starting at 1.5 pips, with leverage of up to 1:300. Lastly, the Platinum Account is aimed at more advanced traders who have a significant trading budget. The minimum deposit on this one is $50,000, and it comes with spreads starting as low as 0.1 pips on selected instruments, along with leverage of up to 1:400.
All account types will give you access to all instruments and allow trading with no separate transaction fees or commissions. The trade sizes permitted are the same for all accounts, from 0.01 lots up to 50 lots. All account types also offer an unlimited amount of open positions, 5% stop out levels, scalping and news trading, and a personal account manager to help you through the process of getting your account set up and answer any questions you may have. Opening an account is quick and simple, although all accounts are verified to comply with international laws and regulations, including anti-terrorism and anti-money laundering laws. Account verification involves all new customers having to provide copies of documents to prove their identity and address. A government-issued ID with a photo, such as a passport or driving licence, is required. In addition, proof of your current address, such as a recent utility bill or financial statement or a lease agreement or ownership document for your property, is needed. These documents can be scanned, or you can take a photo of them on your mobile device. Scans or pictures can be uploaded on the account verification page over at the website.
Platforms
TrendsTurbo offers the popular and intuitive MT4 platform for all clients, which is available in all its versions, including desktop for PCs and Macs, mobile and web-based. The platform incorporates various trading tools. These include technical indicators, charting tools and market news and analysis. MT4 facilitates all order types and allows for one-click trading, advanced backtesting facilities, up to nine time frames, and automated trading. You can get real-time quotes in the Market Watch window and set customised alerts for all your favourite instruments. Price charts available include bars, lines and candles, so you can custom-build a suite of charts and indicators to suit you and the way you trade. The MT4 platform incorporates Trading Signals, which you can use to follow and automatically copy the trades of more experienced traders. There are free and commercial signals available via the MT4 platform, and all signal providers can be found under the Signals tab. Most account holders can also access Expert Advisors, allowing users to automate their trading activities, setting specific parameters within which a position should be opened or closed.

With mobile trading, TrendsTurbo provides a robust mobile app also using the MT4 platform for easy trading from wherever you may be. The mobile app is available for iOS and Android devices. It offers access to most of the same features and functions as the desktop version of the platform. These include charting, time frames, graphs, and other trading tools. The mobile apps are free and can be downloaded from the Apple App Store or Google Play Store. Once you have the app installed on your mobile device, you can customise it, much as you can the desktop version. Don't forget that there is also a web-based version of the platform, which will allow you to trade from any device, via any compatible browser, wherever you are.
Usability
Traders with this broker will find that the website and platform are user-friendly and clearly laid out. The website includes all the important information you would expect, including legal documentation, details of privacy policies and terms and conditions. Navigation around the website is easy, with a clear top-bar menu displaying pertinent information about the company, instruments available, account types and the platform itself. It is clear how to sign up or log in to your account, and contact information is easy to find. The MT4 platform is highly intuitive, as are the mobile apps, and the high degree of customisation contributes to the usability, allowing users easy access to the functions and features they use most.
Customer Support
TrendsTurbo offers a few different customer support channels, most of which can be accessed by potential and existing customers. You can contact the support staff via the dedicated customer service phone line or by emailing [email protected]. There is also a handy web form on the contact page for asking a question or requesting a call back from customer service if this is more convenient. One drawback is that this broker does not currently have a live chat option, which many online traders find useful. But customer support is available 24/7, and the broker aims to reply to email and web form requests within 24 hours.
Once you are signed up with TrendsTurbo, you can contact your personal account manager with any questions about your account or about trading in general. TrendsTurbo also provides its customers with lots of trading information on the various instruments they offer. There is also a guide to using the MT4 platform, which is available on the website. The guide covers different actions you might want to take, such as how to set a stop loss or take profit point, and how to change or delete pending orders.
Payment Methods
TrendsTurbo offers a few different options when it comes to making payments into your account or withdrawing funds.
Card payments are accepted, with the option to pay with credit and with debit cards. You may be asked to upload a scan or picture of your card, with some details covered, to prove it is your card. If your name is not shown on the card, the broker may ask for further proof that the card belongs to you. Payments by card may take some time to clear due to extra security checks. When withdrawing by card, you will only be able to withdraw the original amount you deposited. Any trading profits will need to be withdrawn as a bank transfer.
This brokerage accepts bank wire transfers. You must transfer from a bank account in your name that exactly matches the name you are using on your TrendsTurbo trading account. Third-party transfers cannot be accepted. It may take a few days for wire transfers to arrive in your TrendsTurbo account, and your bank can advise you on how long the funds will take to clear.
TrendsTurbo does not currently accept payment from e-wallets.
Best Offers
This brokerage has a lot to offer its customers. The broker has an award-winning trading platform, a range of charts, indicators and other trading tools, STP execution with no requotes, and a zero-commission trading model. It is possible to trade many instruments as CFDs, and there is a useful platform guide for those inexperienced in MT4 trading. There is also the bonus of a risk-free trade for some customers, subject to certain conditions, meaning you will get a refund if you make a loss on your first trade. Not everyone will be eligible for the risk-free trade offer. Contact the broker if you are unsure whether you can claim it.
Regulation and Deposit Protection
TrendsTurbo is an offshore broker, which means it is not regulated or licenced by any official international regulating bodies, although it must, of course, abide by all local laws and regulations, as well as international laws. All client funds are fully segregated from the broker's operating funds to protect clients if the broker should run into financial difficulties. You can view all relevant legal documentation on the website, under the Documents tab, including the firm's Risk Warning Document, Anti-Money Laundering policy, Terms and Conditions, and Privacy Policy. This is also where you will find a Customer Complaint Form, should you ever need it, and the Bonus Agreement.
Awards
The MT4 platform is well-known and respected in the world of forex and CFD trading. The platform has won various awards over the years, including the best FX Trading Platform and Best Multi-Asset Trading Platform at the Finance Magnate London Summit Awards.