Saxo Bank is a Danish investment bank specialized in online trading and investing. The original company was started in early 90s as a brokerage house and has transformed into an investment bank. The company obtained banking license in 2001. Saxo Bank focuses on online brokerage and doesn't offer the traditional banking products. Head office is in Copenhagen but the company has various offices in big capitals. I would say Saxo Bank is a local player with global ambitions, and they deliver an excellent product for clients wishing to trade the markets. They have received various global awards for their platforms.
You need a minimum of 1500 USD to open an account.
Saxo Bank provides a great platform with access to many assets and markets. The Saxo Trade Pro platform is suited for the active trader as well as the novice trader. The platform reminds me very much of the trading platform developed by Infront that I have used many years both as main trading system as well as a back upm trading platform. It is very clean and intuitive but won't be sufficient for the most advanced traders.
Trading with Saxo Trader Pro is easy, you can access many markets, trade many products and fees are relatively competitive. They offer lower fees the more you trade. The platform is very user friendly and easily understood.
They also offer a web based platform, the Saxo Trader Go, but this serves only for simple trading and is not sufficient as a stand alone system.
The mobile app, integrated in the Saxo Trader Go concept, offers what you want from a mobile trading app. It is clear, easy to use, straightforward and very intuitive.
Saxo Bank offers research and insight which I find rather useful and well written. The morning calls give a good wrap up and the SaxoStrats team offers analysis on macro. They also offer insight on their webpage, tradingfloor.com worth checking out. There is a social trading section as well should you want to follow other traders.
If I would say anything negative it would be that the platform could have some more advanced features that would make it more complete trading platform.
---
General
Positive
Intuitive, customisable professional grade trading platform

Access to many markets and products

Good fee structure

Good feel

Trading platform fits novice as well as pro trader

Trading platform is free
Negative
Too basic if you require advanced platform

Charts have relatively few indicators (50) compared to firms like Interactive Brokers or TD Ameritrade

Poor option analysing
---
Products
Equities

ETFs

Forex

Funds

Bonds

Options

Futures

CFDs
---
Fee structure
Positive
Good competitive rates

You can click on any name in the system and it shows you the commission for that asset. Neat.

Active clients get lower rates
Negative
Inactivity fee on General service level of 100 USD if the client doesn't trade for 6 months

50 euro fee for manual orders
---
The Account and Regulation
Positive
Various account types

Saxo Bank is regulated by various regulators such as FCA (UK), FSA (Denmark), MAS (Singapore), FINMA (Switzerland), Hong Kong etc
Negative
---
Trading Platforms
Saxo Trader Pro
Positive
Great platform for the active trader

User friendly and intuitive platform

Clean and straightforward design and functionality

Good for novice as well as active traders

Very clear order functions

Good oversight in options monitors
Negative
Not sufficient for highly advanced traders

Light on chart indicators

Would welcome more order types
Saxo Trader Go (Web based platform)
Positive
Negative
Saxo Trader Go (Mobile Trading)
Positive
Very clear and straightforward

User friendly

Nice charts

Good overview via the menu

Trade signals via autochartist
Negative
Research
Positive
Negative
No fundamental research in the trading platform

Lacks functions for analyzing various aspects of fundamental research like you can do in systems like the ones provided by TD Ameritrade, Interactive Brokers etc
---
Saxo Trader Pro
Below is the basic view in the Saxo Trader Pro platform. You basically have three tabs as main tabs to choose from: Trading, Charts, Account. You can also choose to view various features such as depth trader, option quotes etc via the Menu tab.
Saxo Trader Pro has predefined watchlists such as Global Futures showing S&P 500, NASDAQ 100, DAX futures, various FX crosses etc. You get a good overview of various assets in a simple way. You can also customize the watchlists according to your preferences. Everything is very intuitive and easily understood, even for the more novice traders. From the watch list you can trade by simply double clicking on the bid/offer prices.
What I really like about the Saxo Trader Pro is the intuitive layout. It is not the most advanced trading platform, but it sure is one of the most user friendly applications. The below layout shows the watchlist you chose as well as some additional information. You have the big chart in the middle that is easily changed and linked. To the right you have the depth trader window which is one of my preferred order windows of all systems. Trading is really easy!
You can customize news flow and additional charts. Like all trading platforms you need several monitors to get a real feel of the system.
The order management and position windows are very clean and makes tracking your trading very easy. It is very easy to see orders in the market, cancel, modify them and I also really like the cancel all orders so clear. In volatile times this is of utter importance.
You can even cancel orders only related to FX, equities or other relevant assets. Very neat indeed!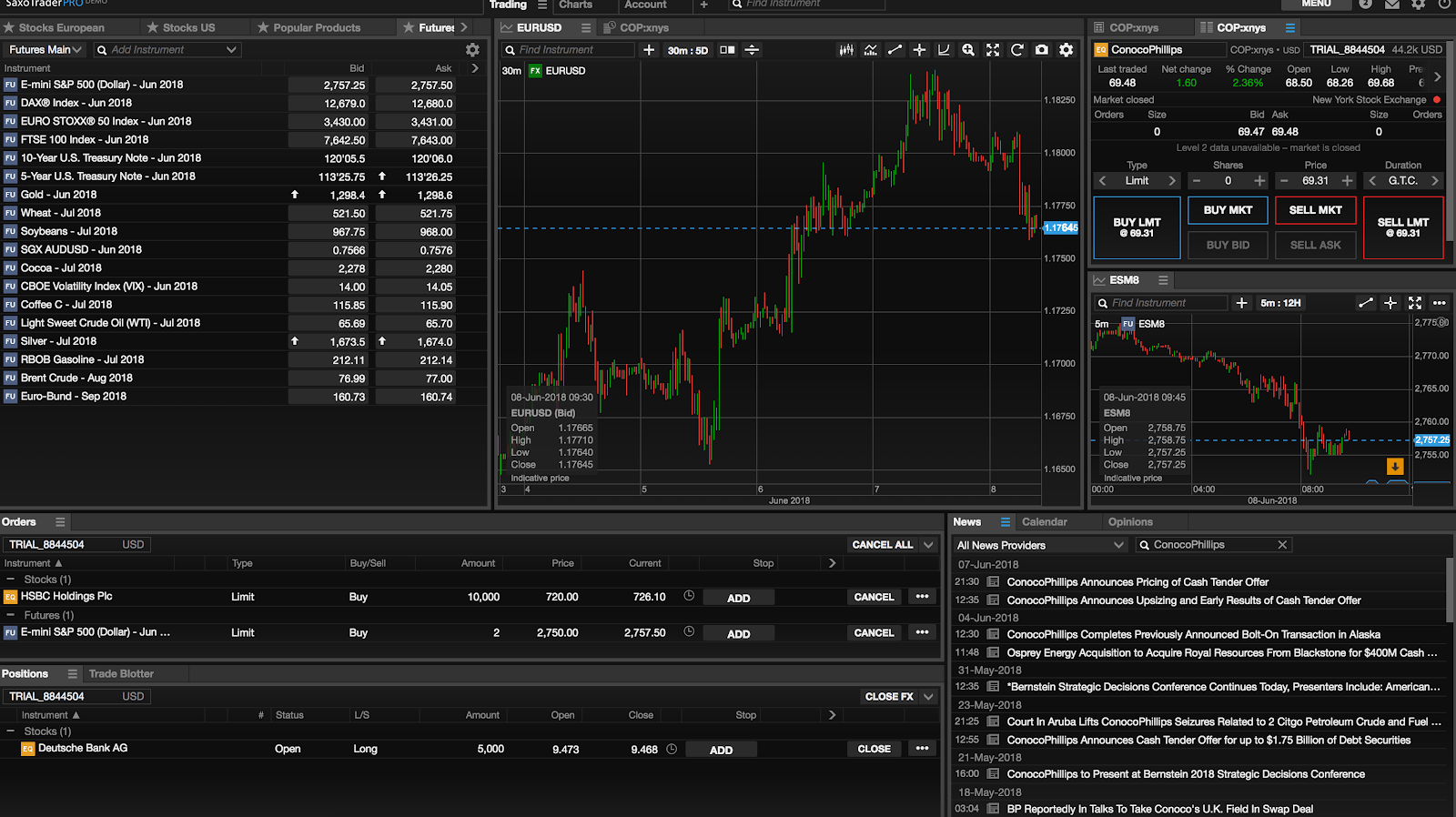 The below image shows the depth trader. It is a great order/trade window with very clear buttons. What's supposed to be a big key is a big key. Less relevant information is relatively small while the important features have been designed bigger. Clean and just perfect!
The window shows information on Deutsche Bank. You see the bid ask spread clearly as well as the first part of the order depth. I really like the big buy/sell buttons.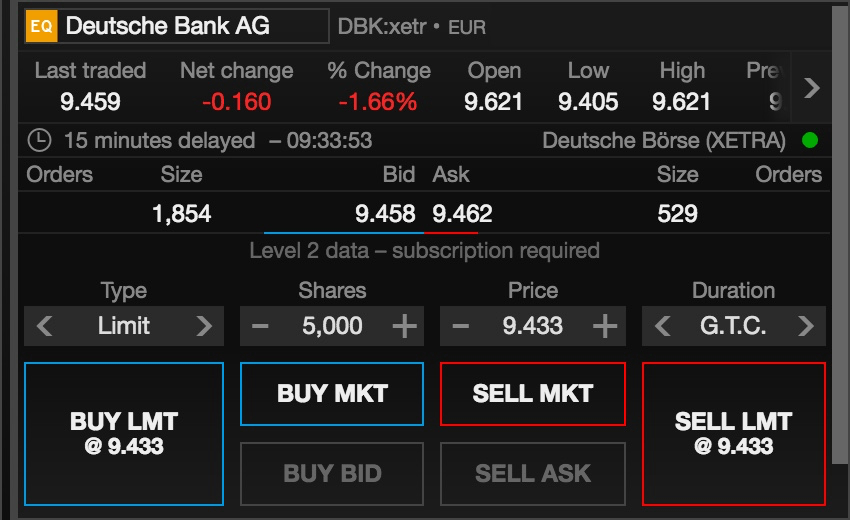 Another great little function is when you click the buy or sell mkt buttons. As you click the at market button it changes to being highlighted and you will trade asap as you push the button once more. If you click just once, the trade doesn't go live. This is very good for traders wishing to execute quick trades.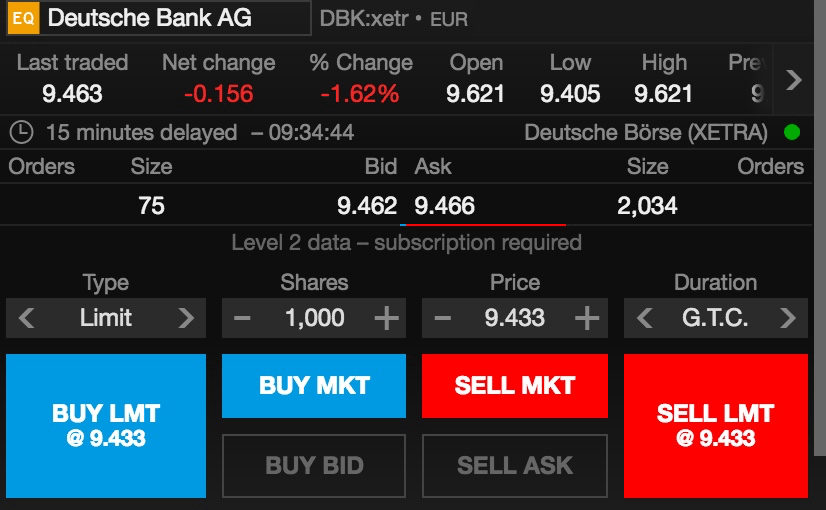 Below you can see the order blotter. As with most features in the Saxo Trader Pro the design is clean and easily understood. Adding or cancelling an order is done in a click.

The positions window is very clean as well. In the below image you see that you are long 5000 shares of DBK. If you want to add or close the trade you simply click once on the relevant button.

The trading platform offers a good calendar that is easily reached in the menu. You will never miss an event if you check the calendar, but I would have liked to see possibilities to get alerts for predetermined events that you can filter accordingly.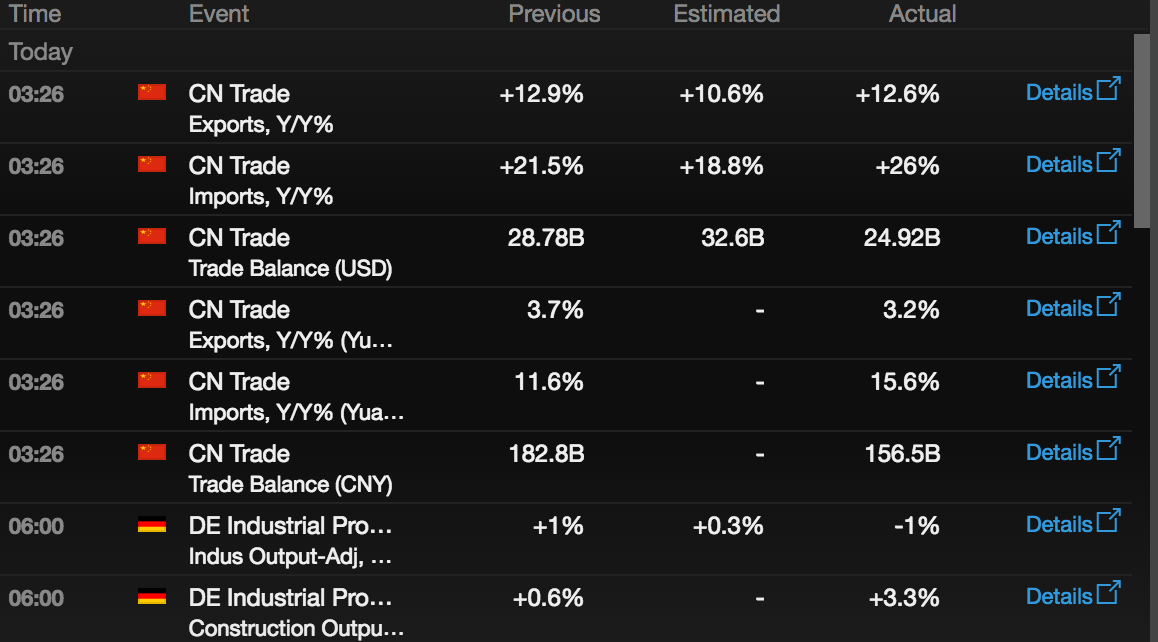 Option window excellence! The Saxo Trader Pro doesn't offer the complex possibilities to calculate, value and analyze options but they definitely deliver one of the clearest views of options trading. An options window should look just the way they have designed it. Expiry date is clear, calls and puts are clear, bid/offer is clear. Just click and trade!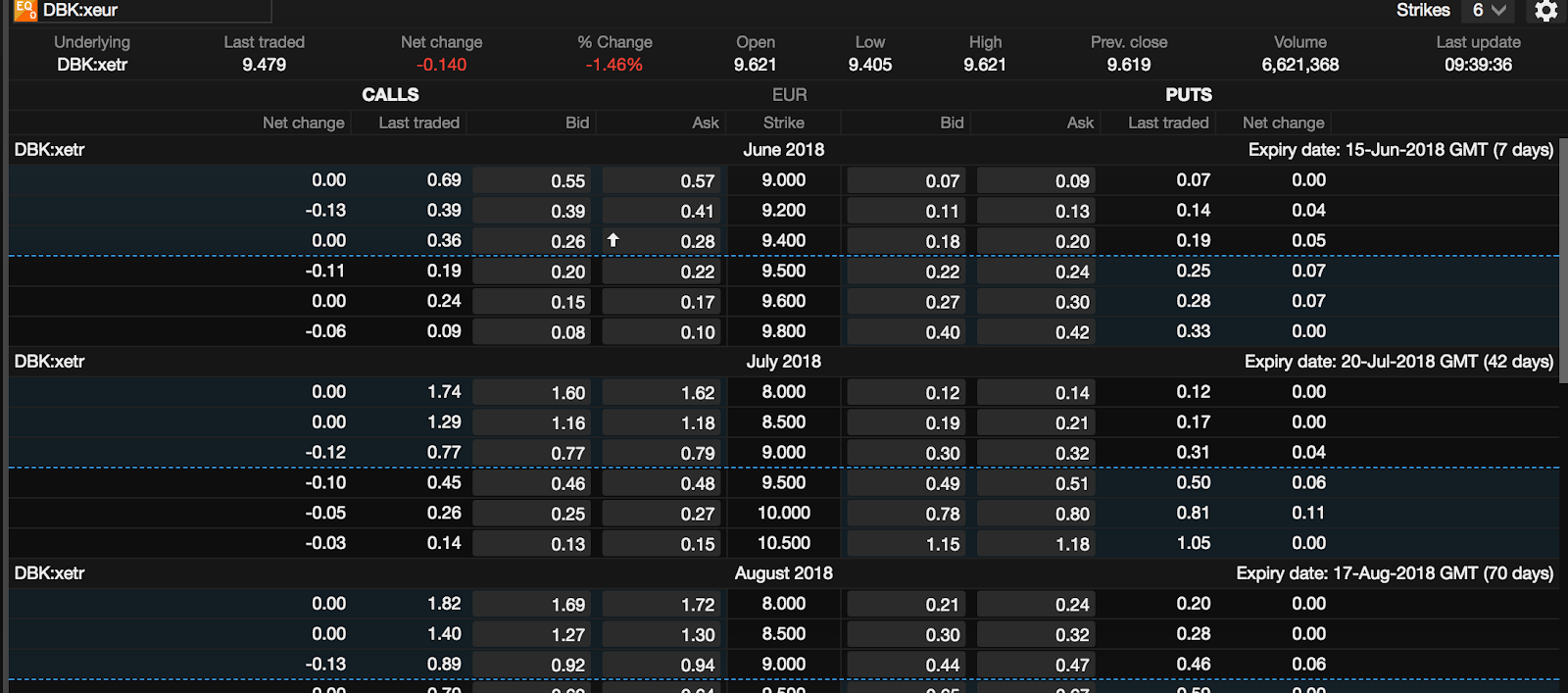 The chart tab shows you the below image. You can add/remove charts, but as a chart start window I like it.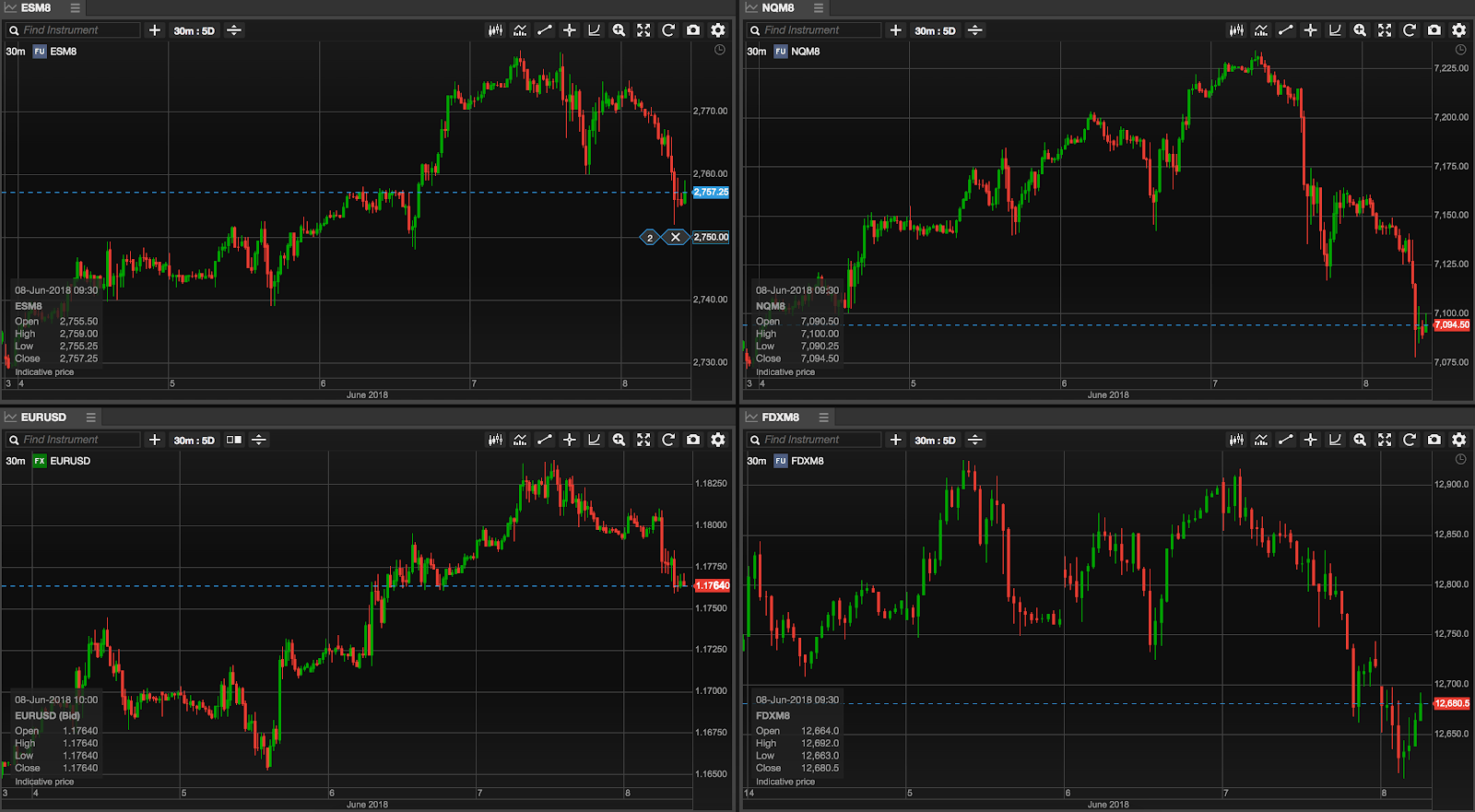 Every chart is easily magnified and the platform offers a little more than 50 indicators. Each trader has preferred indicators, and my personal ones are covered by the platform, but for traders looking to use indicators not that common, the indicators offered are not enough. The look and feel is OK although I prefer charting on other systems.
Below is a chart of the S&P 500 future with 200 day moving average and the Bollinger Bands plotted.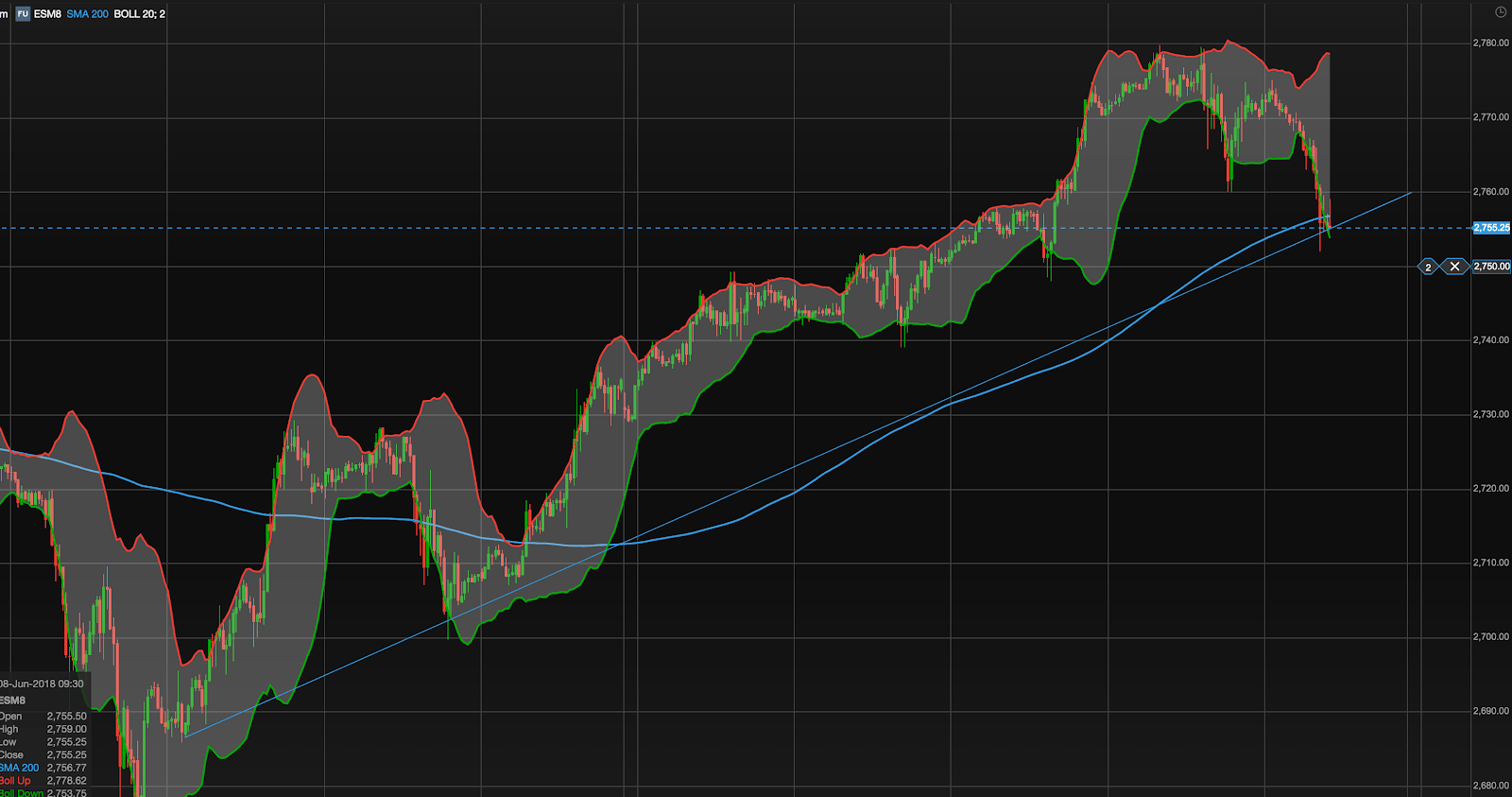 One nice function is the fact you can click on the chart and pull up an order window and trade directly. This is useful if you like charting and placing orders at levels you find attractive.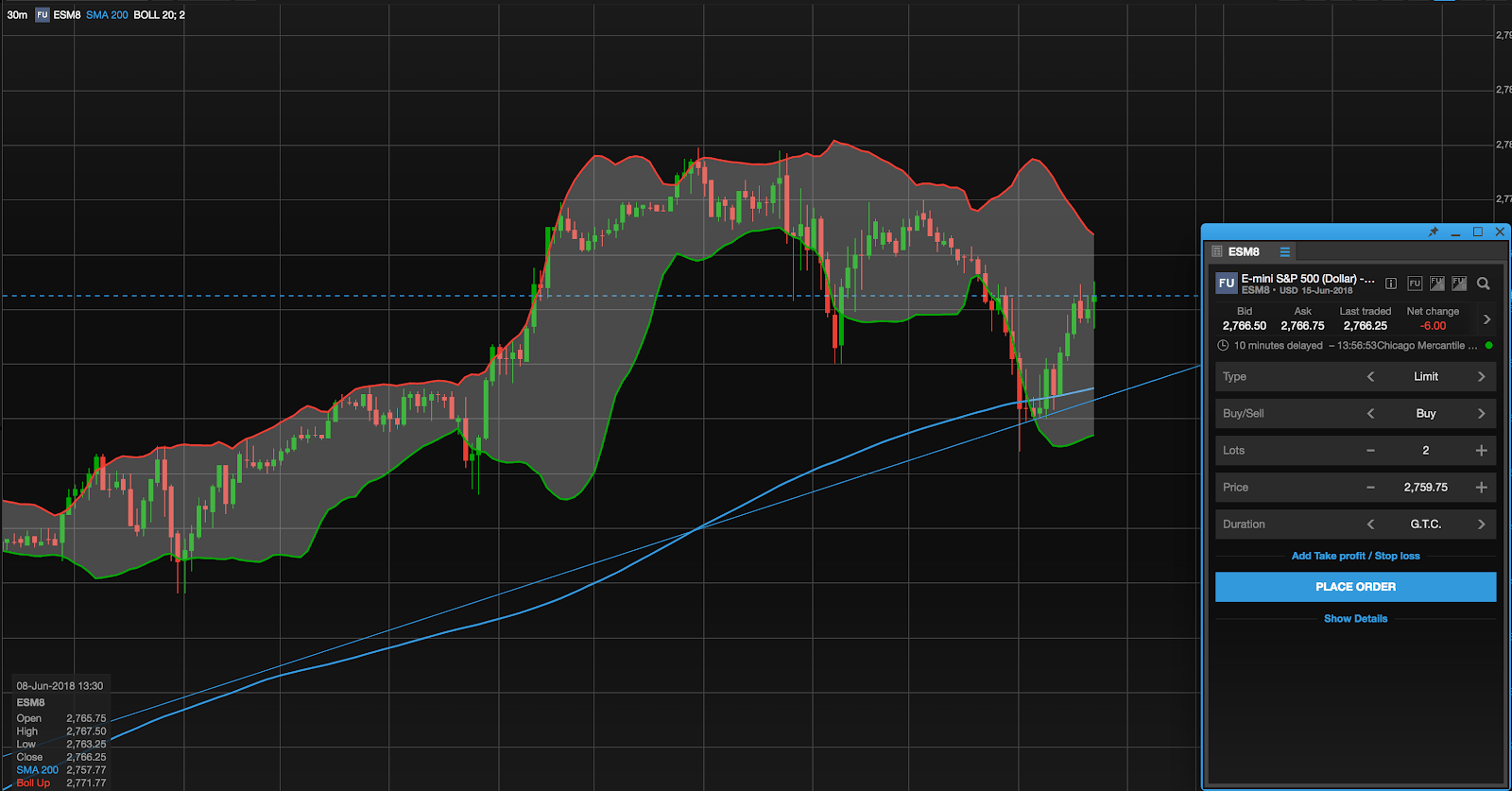 Risk management and possibilities to analyze the portfolio isn't the strongest features of this trading platform, but it serves well for an intuitive overview of your portfolio. Below is a snapshot of how the portfolio looks with only one position in this example, long 5 000 shares of Deutsche Bank. The chart image of the p/l and the exposure is a good feature.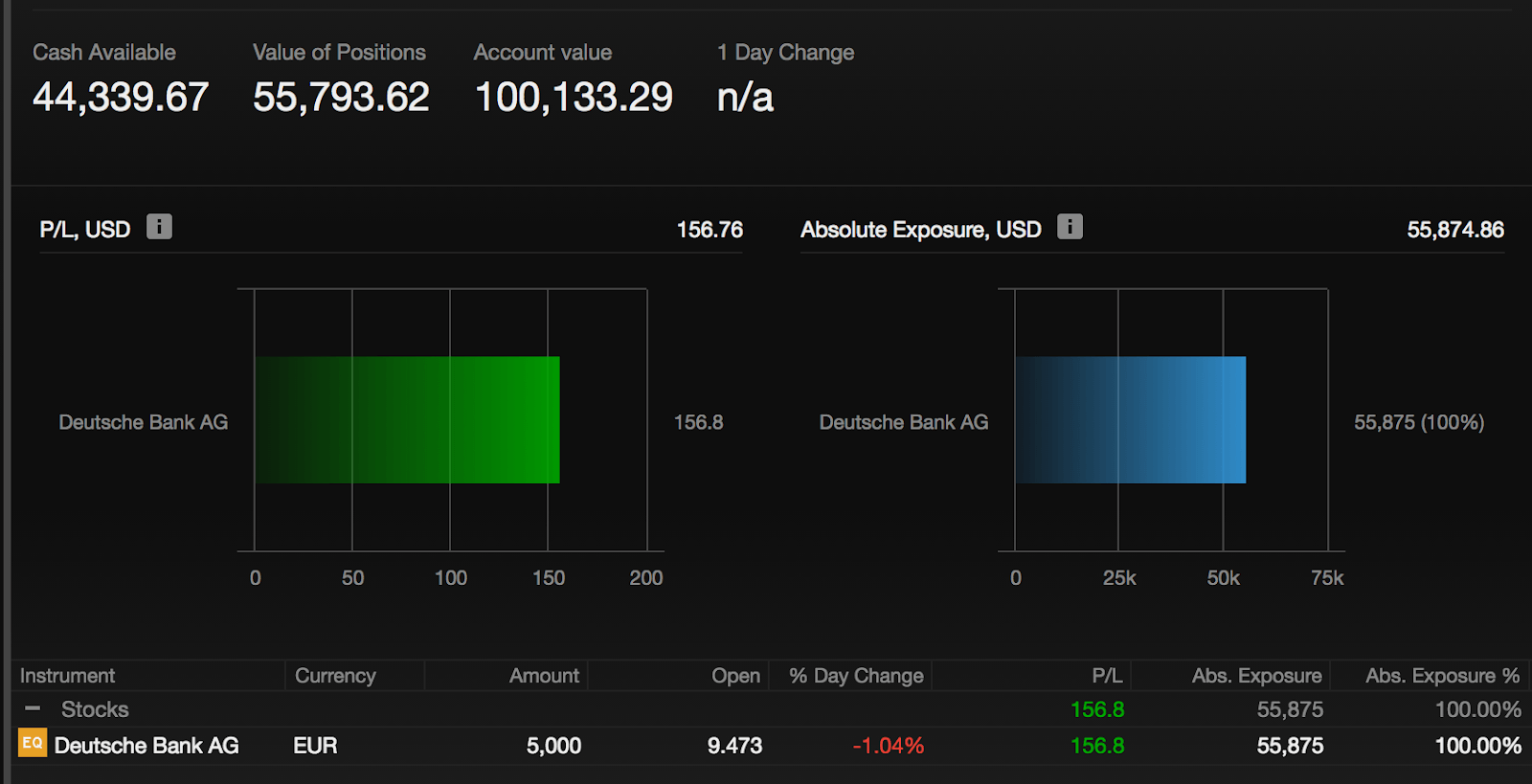 You can retrieve additional information about your account and trading activity by downloading preset reports that can be handy at times.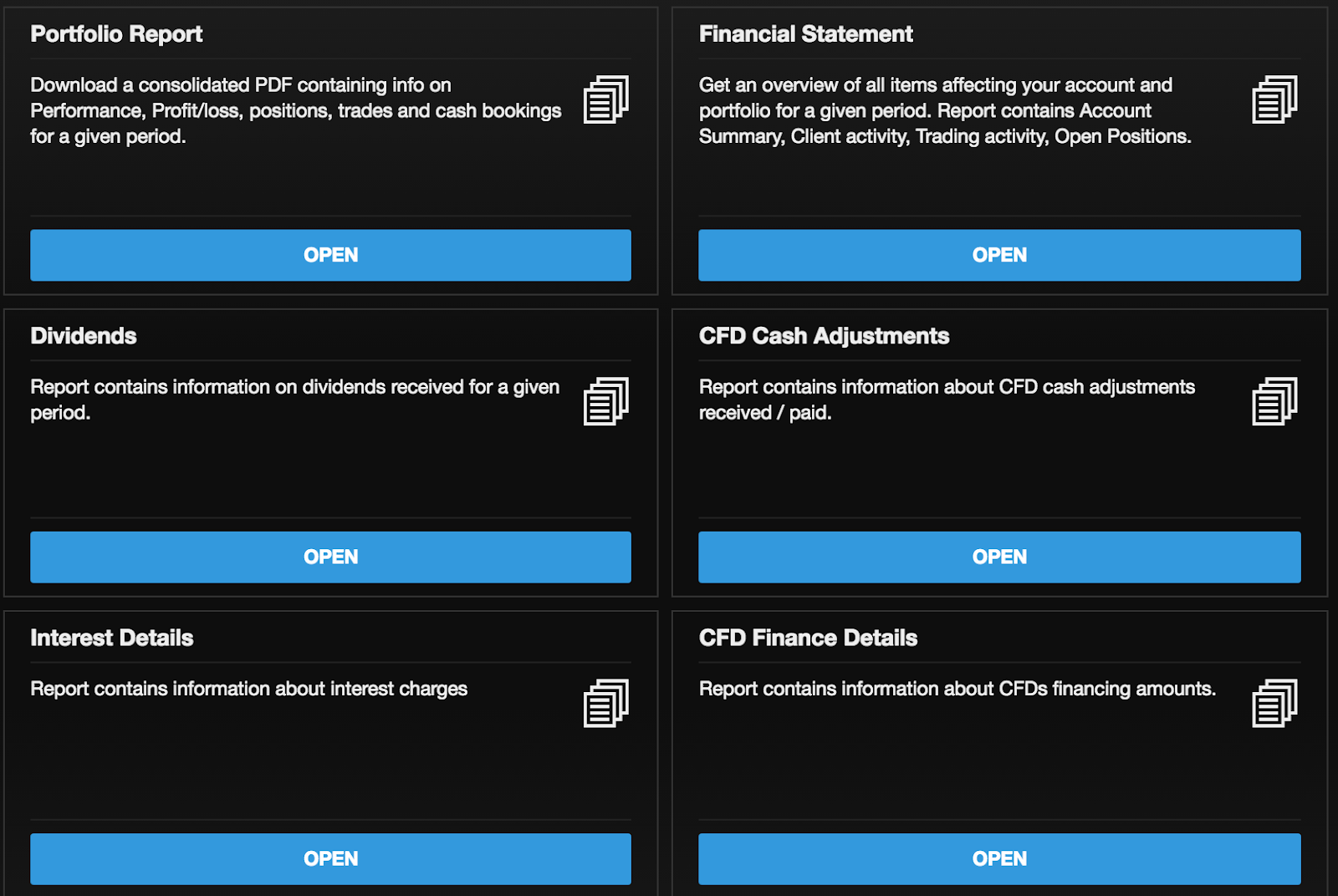 ---
Saxo Trader Go
The Saxo Trader Go concept is basically the Web based platform and the mobile trading app in one name. The web based platform is too simple and should only be used as a backup system and a trading platform to use when you travel or you don't have access to your downloaded Saxo Trader Pro platform.
Mobile trading with the Saxo Trader Go offers you a good application for most traders needs, but is not as advanced as other systems, such as TD Ameritrade for example. You will once again find clearly designed features.
Charts are good but will not blow your mind away. One interesting function is the automatic finder of patterns, autochartist, that actually can be useful as possible idea generator and can be used in the app.
Below chart of EURUSD with Bollinger Bands as seen in the app.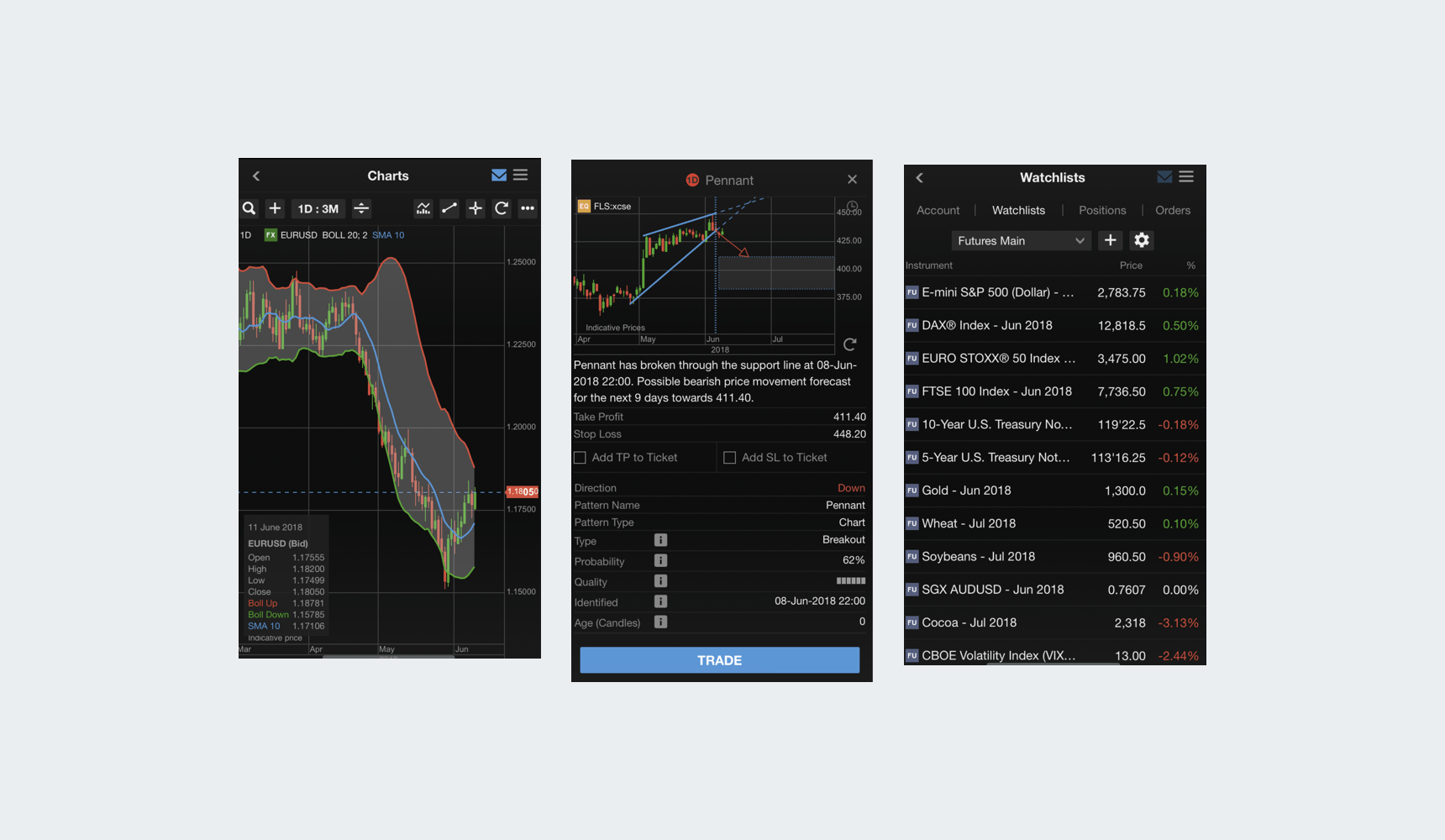 The image below shows the auto recognition system showing you the pattern as well as the explanation and price target outlined. I believe all auto pattern systems should be treated with a bit of scepticism, but it is a good tool to show you possibly good trading setups for you to study in more depth before trading the asset.
The image shows the classical watchlist view. You can choose to use preset views or fully customize your lists. Trading is easily done, just click an asset and the order window pops up.
---
Conclusion:
Saxo Bank is a local player offering a global product that will impress you. The Saxo Trader Pro trading platform is a robust, intuitive and easy to use system. The system is clearly designed by people that understand what most traders need. Layout, design and feel is all nicely combined.
You have access to many markets and products and commissions across the board are rather fair. Active traders that trade a lot will get lower fees and I encourage you to negotiate your fees if you are a very active trader.
---
Commissions:
You need a minimum of 1 500 USD to open an account with Saxo Bank.
Overall Saxo Bank offers fair fees.
Below are a few commissions highlighted for the retail client applicable to trading in US, Europe (we don't show every country) and Asia. For commissions in every country we encourage you to visit the link to Saxo Bank. For full pricing visit all commissions.