IG Group is a UK based company offering financial derivatives trading via spread betting and CFDs to mainly retail investors. The group is divided in IG Markets (CFD trading), regulated by the FCA, and IG Index (spread betting), regulated by the UK Gambling Commission. The company was founded in 1974 and is currently one of the top firms in CFD trading as well as spread betting.
IG Group is listed on the London Stock Exchange.
IG is a global player serving almost 200 000 clients. The firm is mainly focused on CFD and spread betting dealing but has since 2014 also been offering trading in shares.
Clients have access to many assets and markets.
IG offers a good platform for the trader looking to trade fast, easy and doesn't require advanced features. Access to many assets and markets is a great plus. The platform itself is easy to use and the feel to it is nice just as the user friendliness.
The platform offers charting, news, research and some nice features such as predetermined stop losses etc. IG also offers great educational material that the novice trader will find very useful. The firm offers good webinars explaining various interesting themes in trading.
Fees are competitive and IG explains in a fair way how they make their money on CFD trading. Transparency is great.
IG offers mobile trading as well as a few options from third party providers of platforms.
The biggest negative is the fact more advanced traders need more tools and sophistication. One possibility is actually using other systems for information purposes and then using the IG platform for pure execution and charting.
Another slightly confusing aspect is the relatively new quarterly custody fee IG charges. Share trading and ISA accounts will be debited 24 pounds per quarter, but this will be deducted from commissions paid. No charge will be applied if the client hold minimum 15 000 pounds across their IG accounts or if the client trades minimum 3 trades across their accounts. I like everything straight and down to the punchline and the above is confusing the client slightly.
---
General
Positive
Intuitive and easy to use platform

Robust and quick system

Access to many markets and products

Good education material

Good customer service
Negative
Needs more advanced features for the advanced traders

Charts need more indicators
---
Products
Indices

Forex

Cryptos

Shares

Commodities

Bonds

Rates

ETFs
---
Fee structure
Positive
Negative
Somewhat

confusing

quarterly charges
---
The Account and Regulation
Positive
Negative
---
Trading Platforms
Web based platform
Positive
Robust and quick platform

Intuitive

Fast charting

Assets and markets easily accessed

Clear design

Great market screener tool
Negative
Mobile Trading
Positive
Simply love the chatbot

User friendly

Many order types
Negative
The chatbot can get

addictive
Research
Positive
Relevant macro research

Good market commentary

Good market screener
Negative
Light for the demanding user

Very little focus on individual stocks
---
The Web Trading Platform
The IG platform provided is a good, quick and robust system for traders looking for a relatively simple platform that does a good job, but doesn't have all the features an advanced trader will look for. Most basic functions are available. Charting is good, the layout of order windows etc are all well designed and intuitive to use. The system is also well designed in terms of a good feel when using it.
There are many interesting features such as trading directly from the chart.
The overall feel to the system is rather nice and fresh. The traditional stockbroker usually designs the trading platform in a more boring fashion. You can clearly tell IG has developed the system from a different angle and the more modern spread betting feel is seen in the way the platform has been designed.
I am rather picky when it comes to charts and I use Bloomberg for all my charting. Having said that, I must give IG charting experience a extra thumbs up. It lacks many indicators etc but the way the chart feels is nicely designed.
The starting screen is customizable. Here is a classical look showing the portfolio, orders and alerts in the top window.
The watchlists in the below layout shows popular markets predefined by IG, but you can of course design your personal watchlist.
The news window is fed from various news agencies and the right side of the layout is prepared with a neat Twitter function.
The bottom of the layout shows the chart of DAX index. Note the chart function has possibilities to have the order window inserted or as a separate window. This is a neat function if you wish to have the possibility to have a separate order window for other assets not in the chart.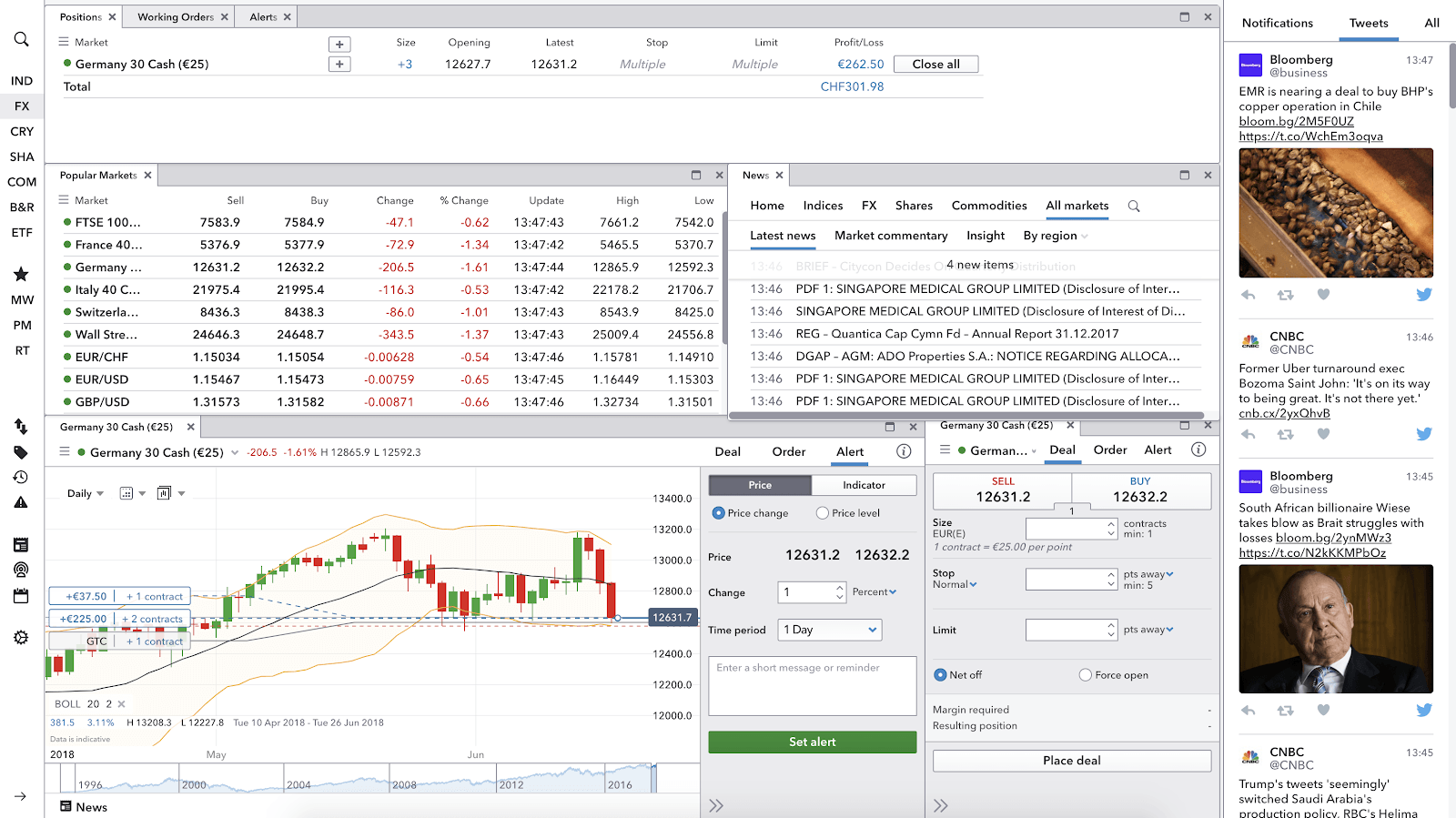 The window showing positions, working orders and alerts is clear and shows the relevant information. Below is an order in DAX index. Deleting the order is done in a click. Adding stop loss to the trade is also easily performed. I like order windows that are displayed clearly and give accurate information without having to perform several clicks to get the information.

The position window also displays relevant information presented clearly. The position below is made up of various trades resulting in the total aggregate position. Note that you can close the aggregate position by clicking the close all button.

The order window is clear in terms of price, size etc. The only thing that disturbs me is the given possibilities to change between deal, order and alert on the tab. I would have liked to have a dedicated order window for orders and not possibly confuse the trader with several tabs.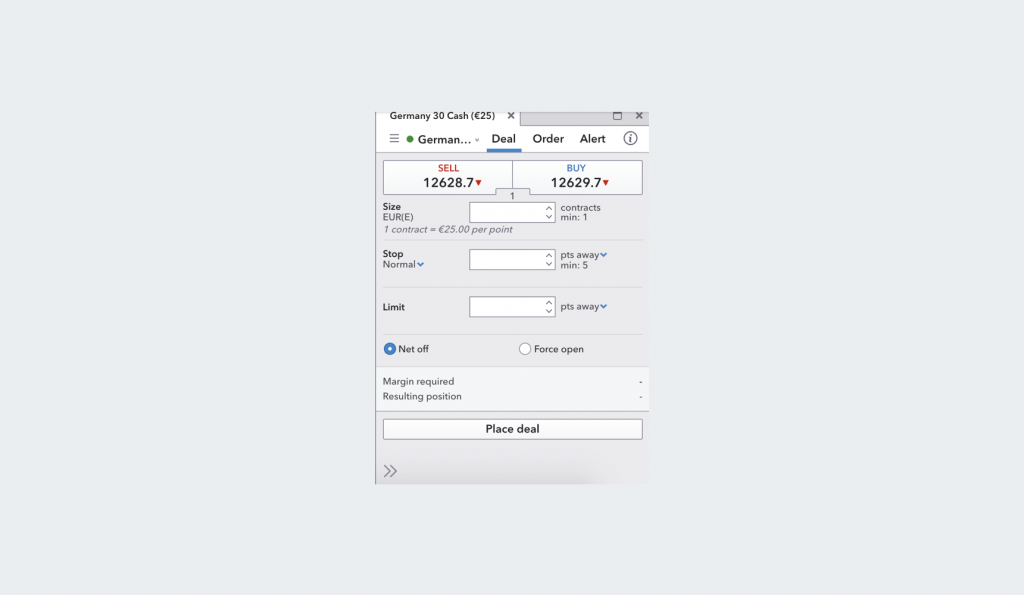 The chart with the preset dealing/order window is a nice feature. You can quickly trade or send an order at levels you find interesting. This is an interesting tool for all traders, especially the active day trader that usually spends many hours every day looking at charts.
Besides having the option to execute trades, you can also put an alarm in as you watch the your chart. You can set the alarm to remind you with a simple message easily. I like this feature linked to the chart section since traders usually get "instant" ideas when looking at charts but often lack a methodology how to track these setups.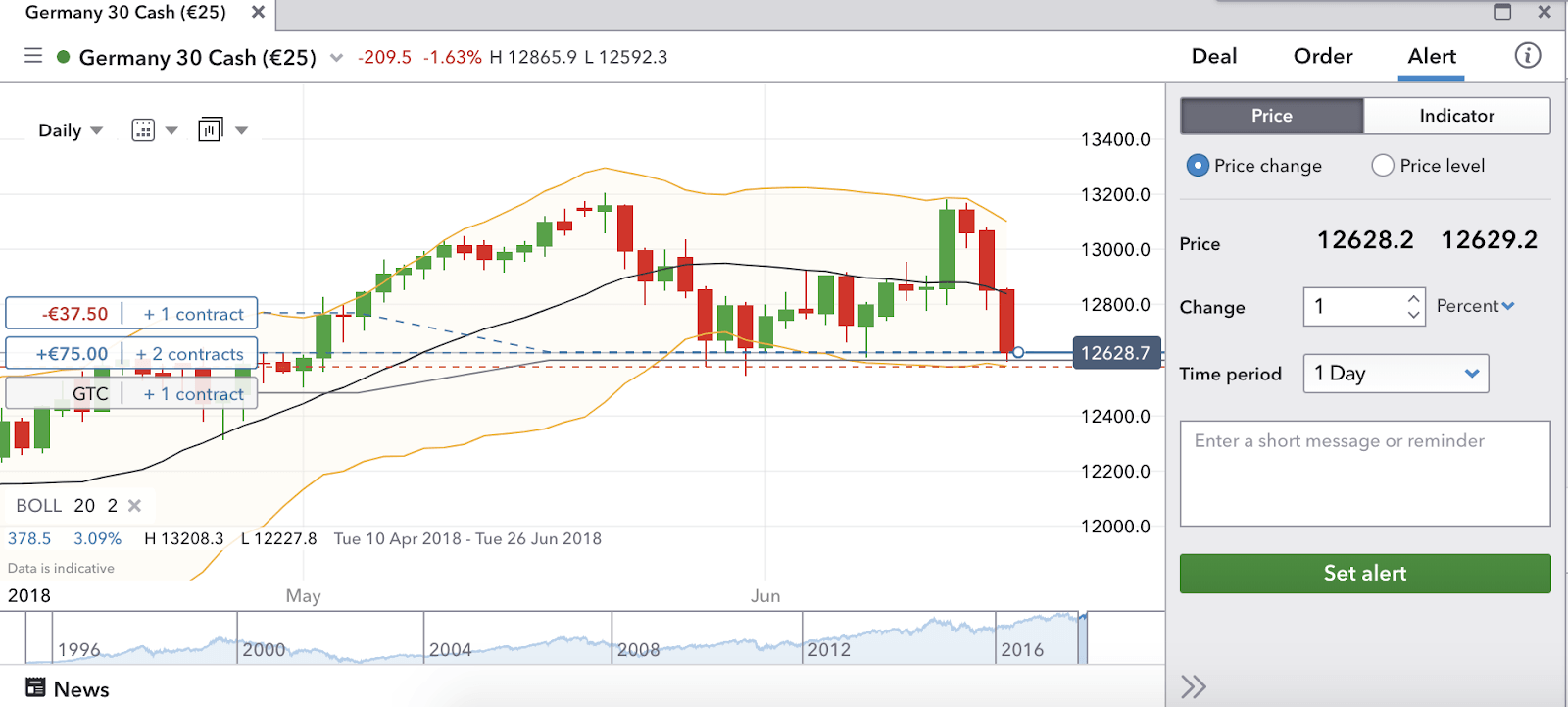 Below is the charting layout magnified. Note another neat function, the discrete buy/sell boxes in the upper right.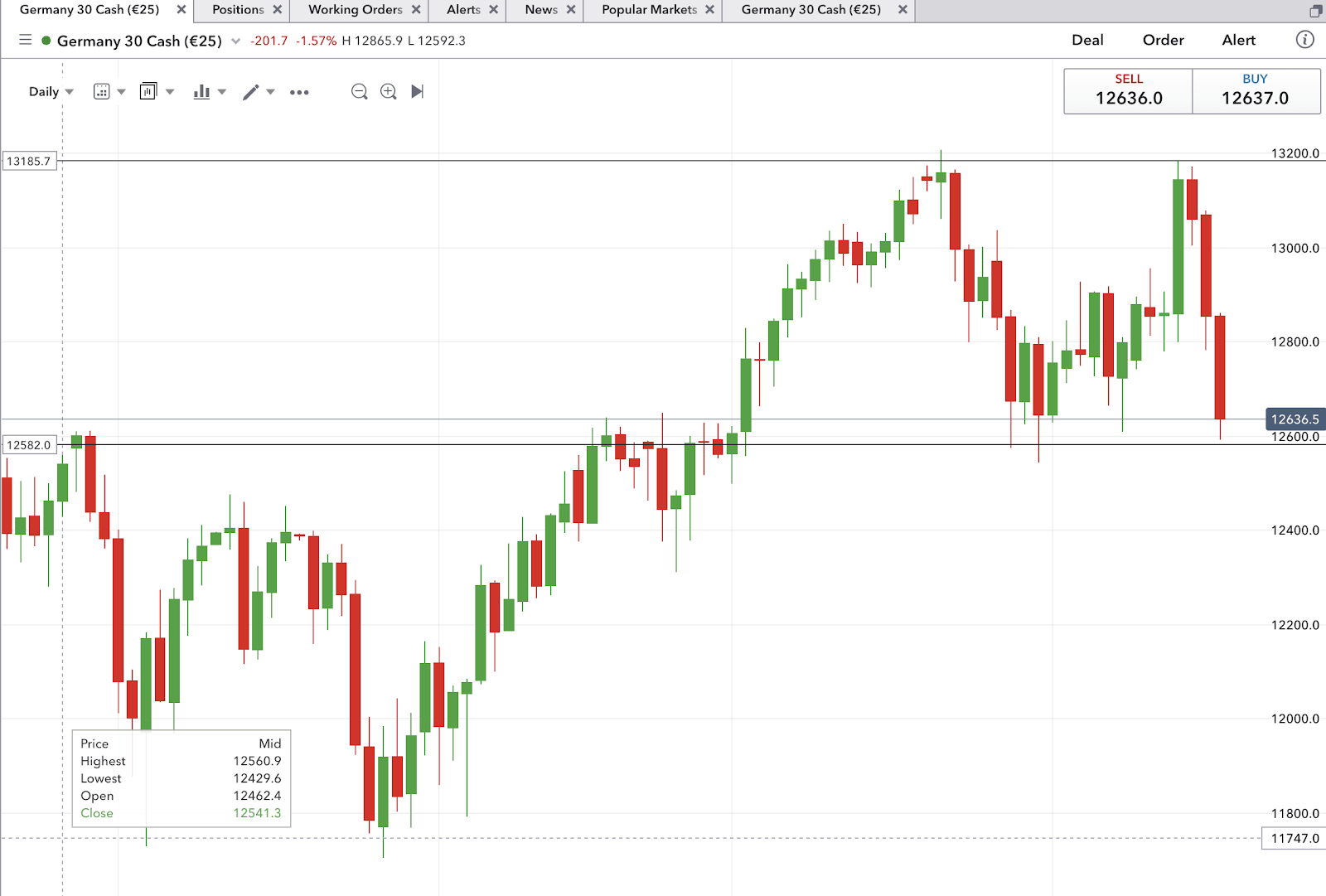 You can switch the layout from white to black for the entire platform. This is done in a click and suddenly the chart section looks better in my eyes. The charting platform offers good drawing tools and you can choose among 20 plus indicators. Most traders use a few indicators only, but I would have liked to see more indicators offered.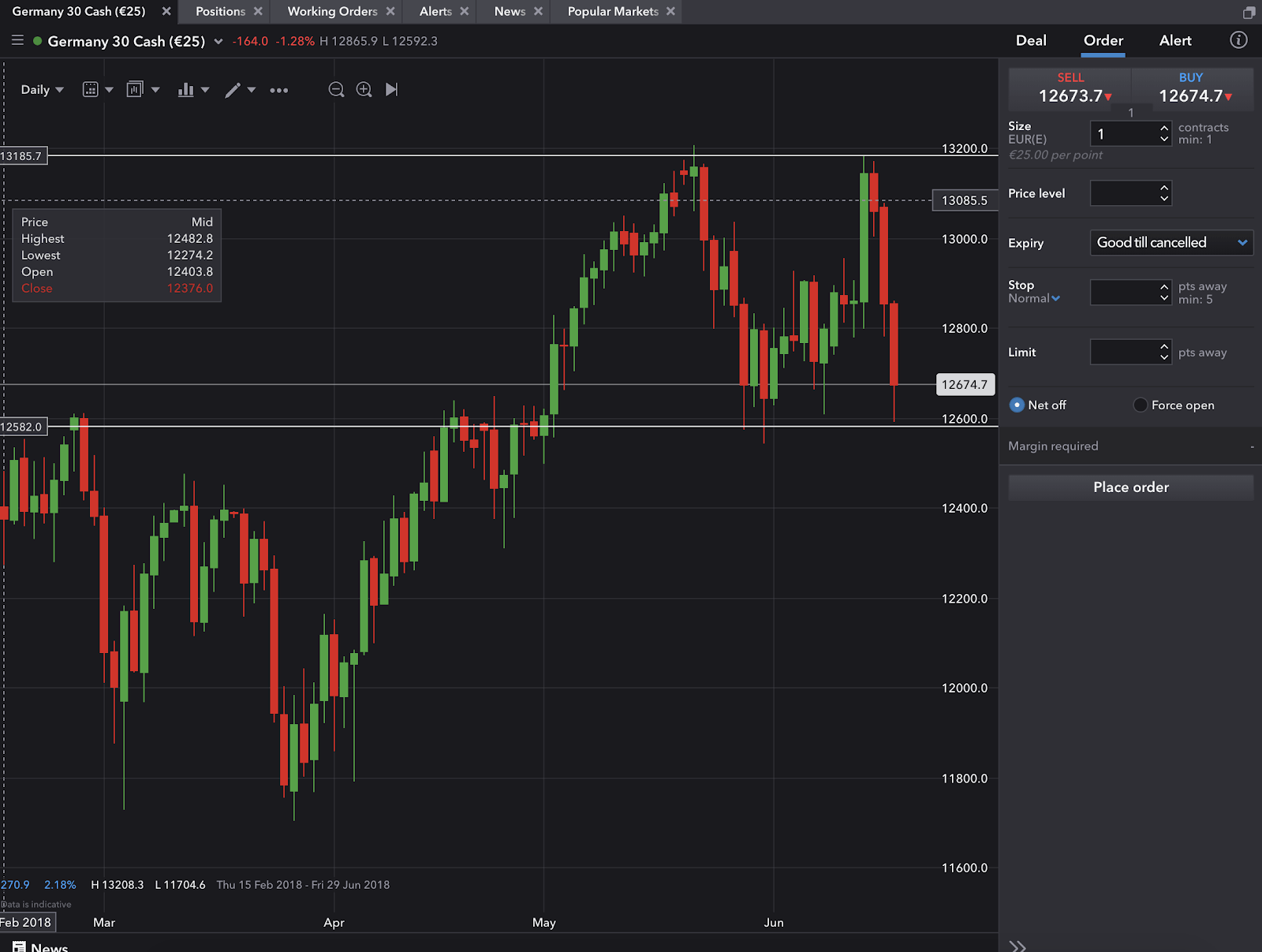 Another creative detail in the IG platform is the tool where you can choose if the system should remember your stops and your last size in an asset.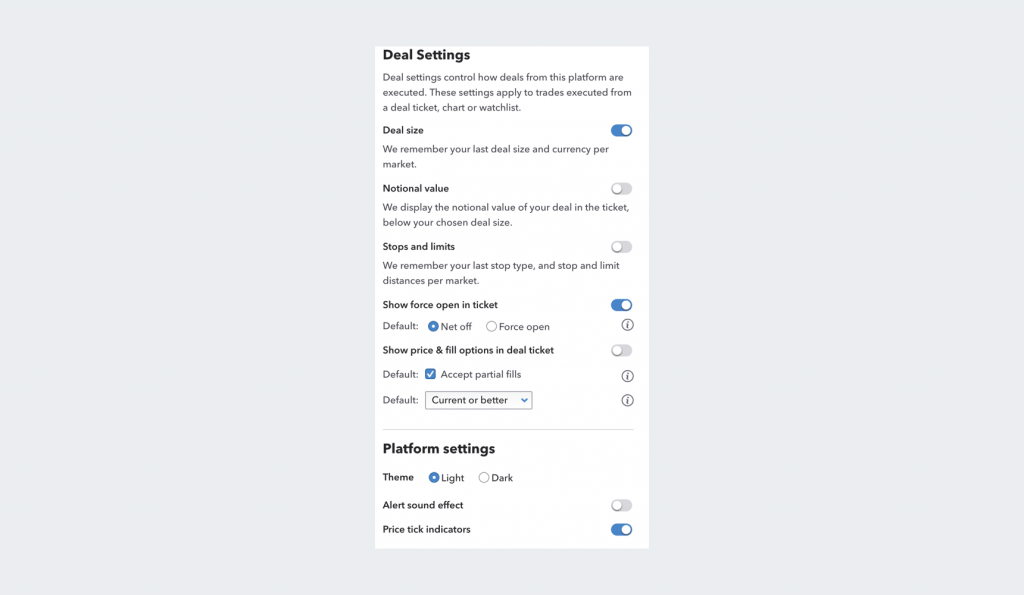 There is a tool called Signals. This is a product looking for various signals giving the trader possibly interesting set ups. The system explains what kind of signal is given and you can instantly see the linked chart as well as the order window gives you the possibility to trade directly.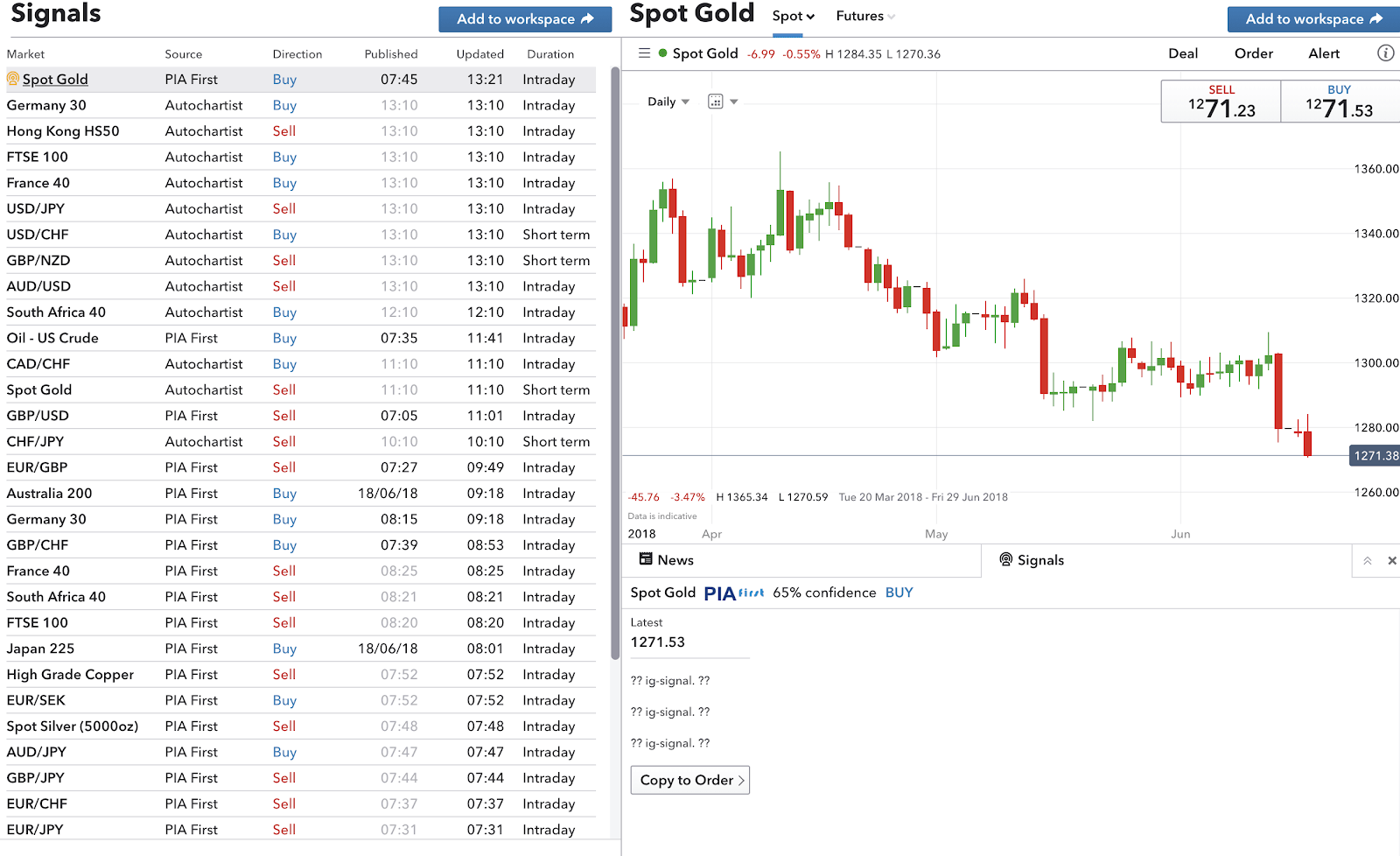 IG offers a social trading feature. Interact with other traders and discuss your topic. There are more complex and interesting social trading possibilities offered by other providers.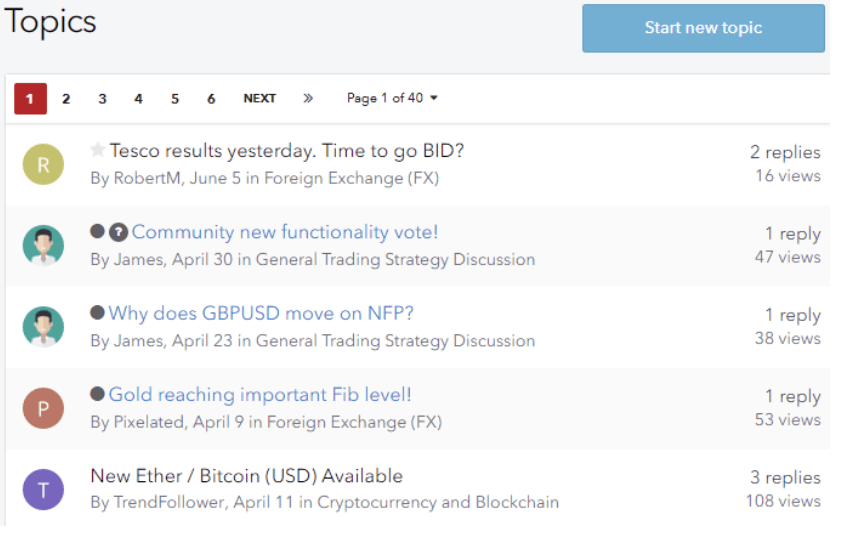 The IG platform offers a neat market screener. It gives you possibilites to quickly narrow down your stock searches in accordance to filtered applied. The system reacts instantly as you scroll over the filter options.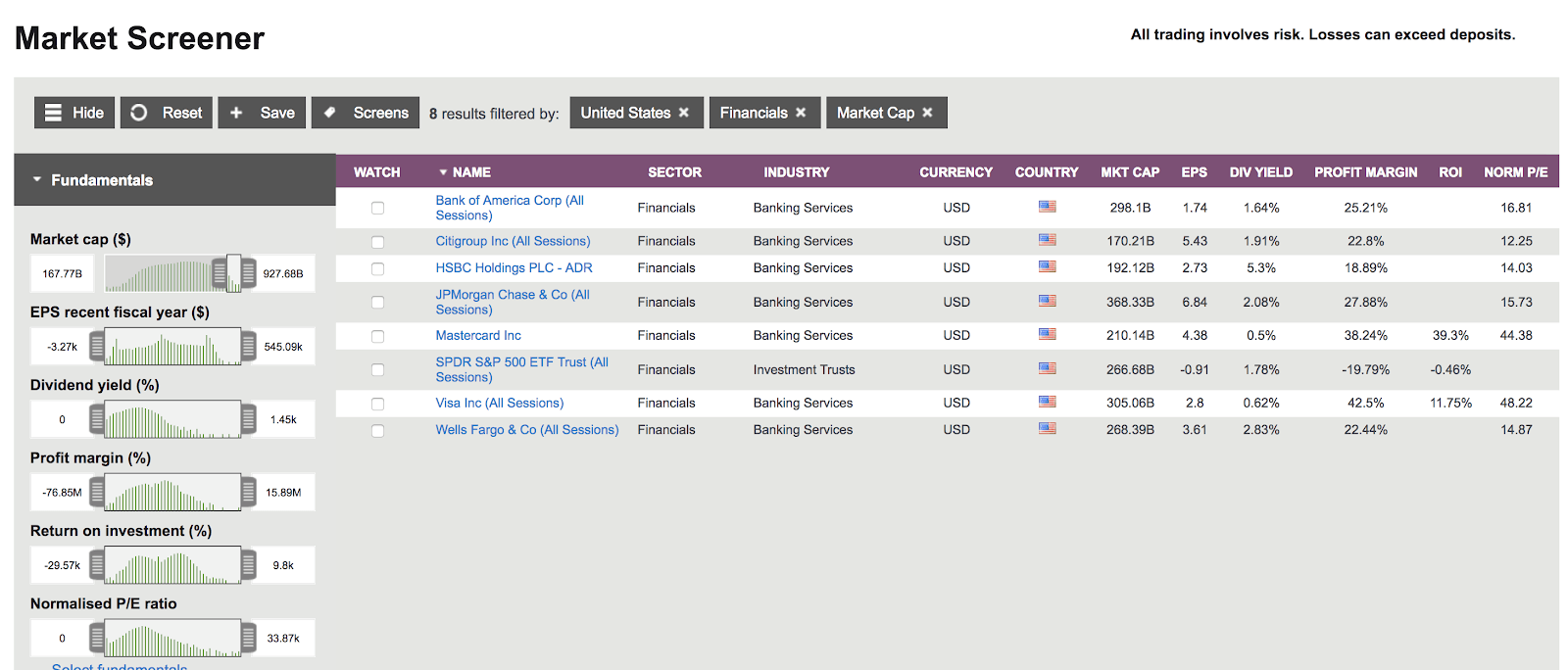 IG provides great educational material. They explain the entire CFD business in a fair and transparent way. The novice trader should definitely go through these presentations to fully understand how IG makes money and how the instruments work.
Below is an explanation of how a stock trade works and how a CFD trade works.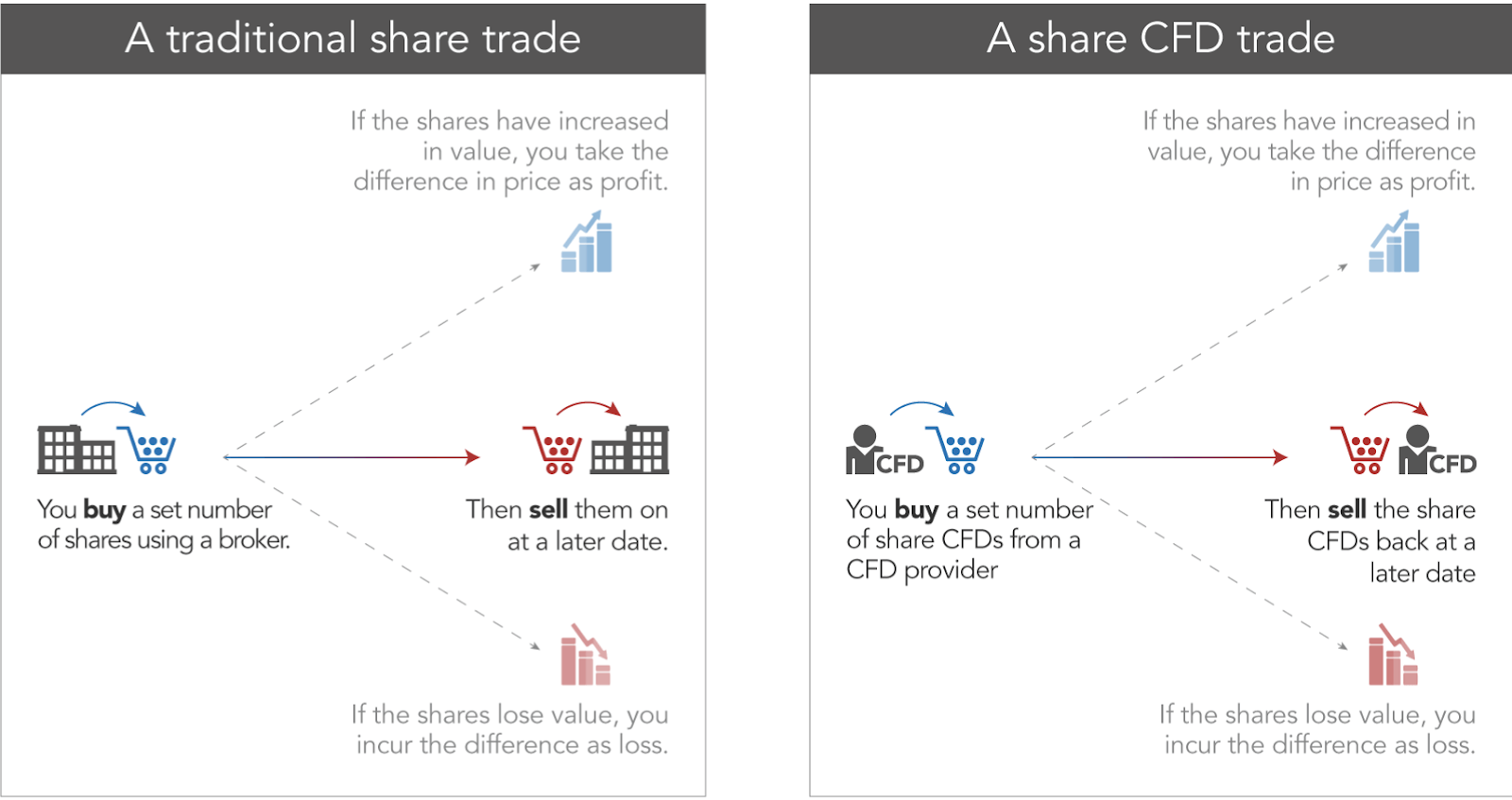 The educational material is divided into modules focusing on whether the trader is novice or advanced. IG provides good content and complex issues are explained efficiently.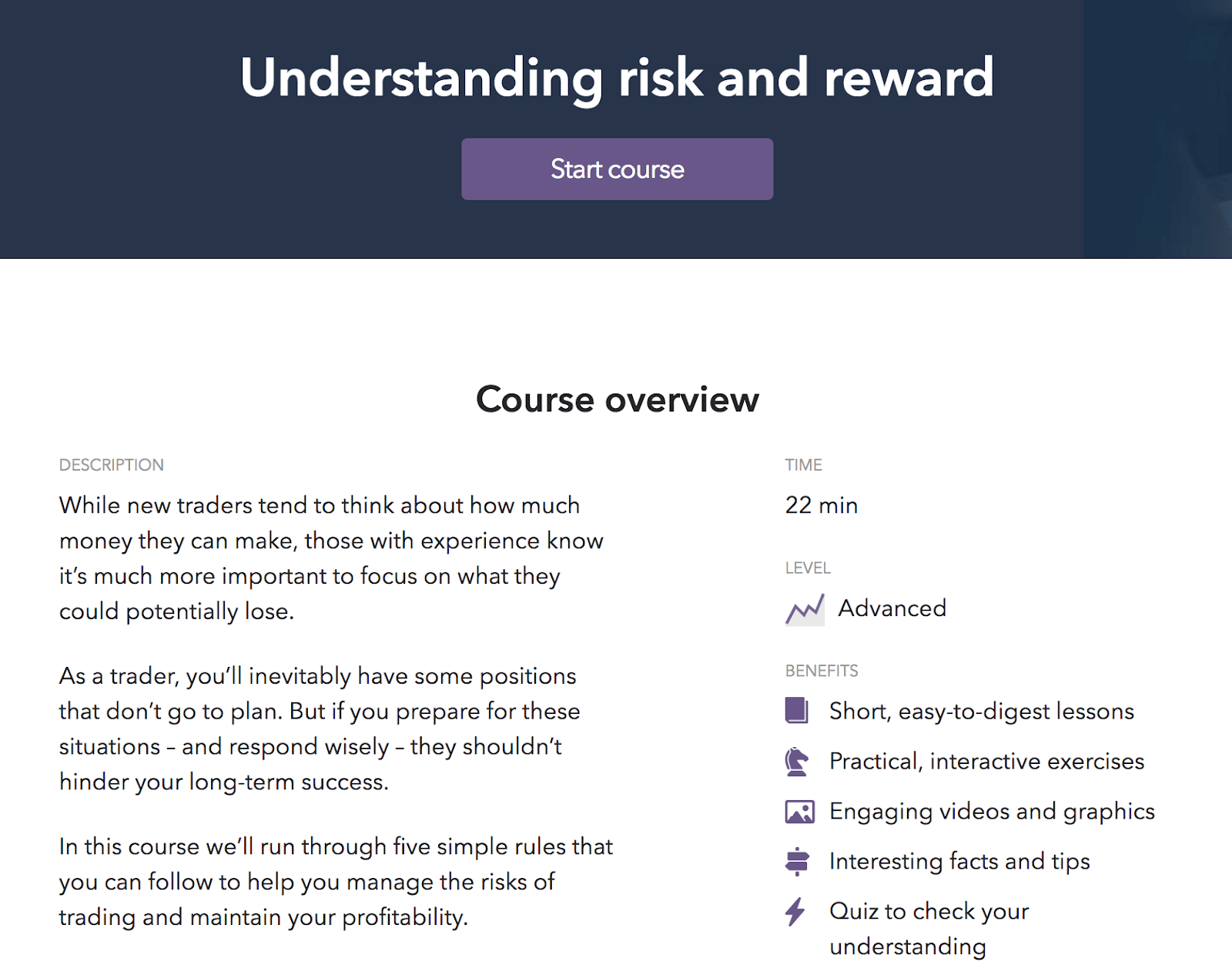 ---
Mobile Trading App
The mobile trading app IG offers is a slick and quick mobile app. You can utilize many tools in this user friendly app. You can choose preset watchlists across assets or customize in accordance to your preferences. Trades and orders are easily performed, just as access to your positions, charts, news and other features is all done smoothly.
When clicking on bitcoin for example the below window pops up. You see easily your funds and what's available for trading as well as your p/l.
In order to trade just click what you want to do and fill out price and volume.
To retrieve a chart of the asset simply click chart on the menu below. IG mobile app is very intuitive which I find positive.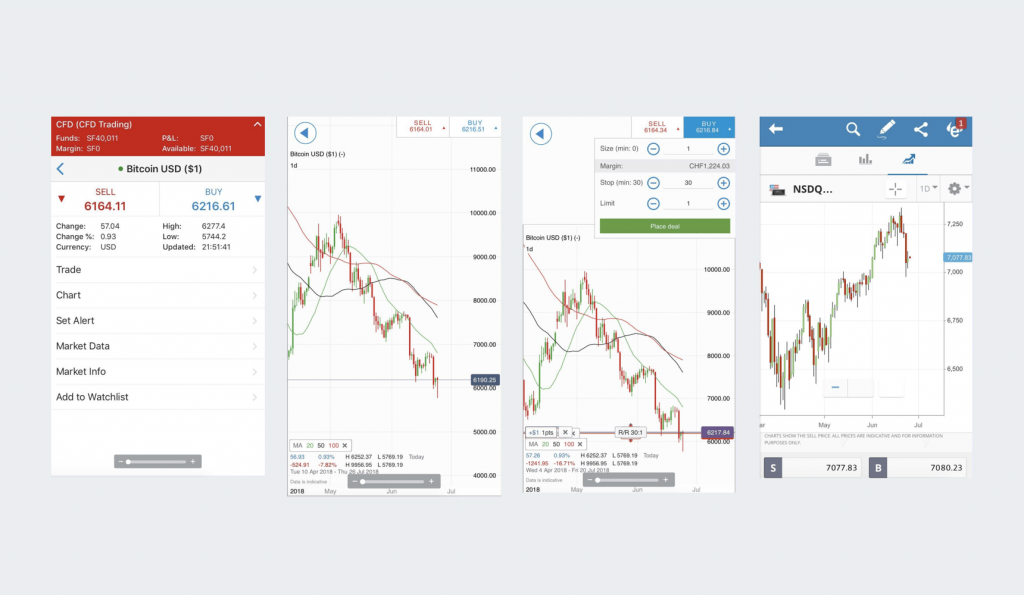 Charting is very easy in this app. The chart technology pulls up the chart very quickly and you can move it around easily.
A nice feature is the buy/sell buttons embedded in the chart.
Drawing in the chart on the iPhone is for delicate fingers, while applying indicators is smooth operations.
When you hit the buy or sell button in the chart, specifications of what to do next are given instantly. Trading from the chart is extremely easy. Well done IG.
The mobile app is nicely designed and has most of the features a trader would want, but it comes light in comparison to the applications developed by Interactive Brokers or TD Ameritrade.
---
Conclusion:
IG Group offers a robust product. The firm has been active in the online spread betting world for decades and has evolved into offering an interesting product in stock trading, spread betting and CFD trading. The trading platform is user friendly, has a good feel to it, provides relevant trading tools, offers a quick charting package, provides great education material, a good market screener tool and a relevant mobile trading app.
IG offers a product for the traders wishing to trade in a relatively simple way. The platform doesn't offer what more advanced traders look for. The charting tools need to be expanded, more complex order types need to be added, trading options must be developed, as well as tools to help traders in their risk management. For the research hungry traders there is not sufficient analysis to access via the platform.
---
Commissions:
IG offers a relatively low and simple commissions structure. Below is the snapshot from their webpage regarding UK stocks. You see that trading more gives you lower commissions.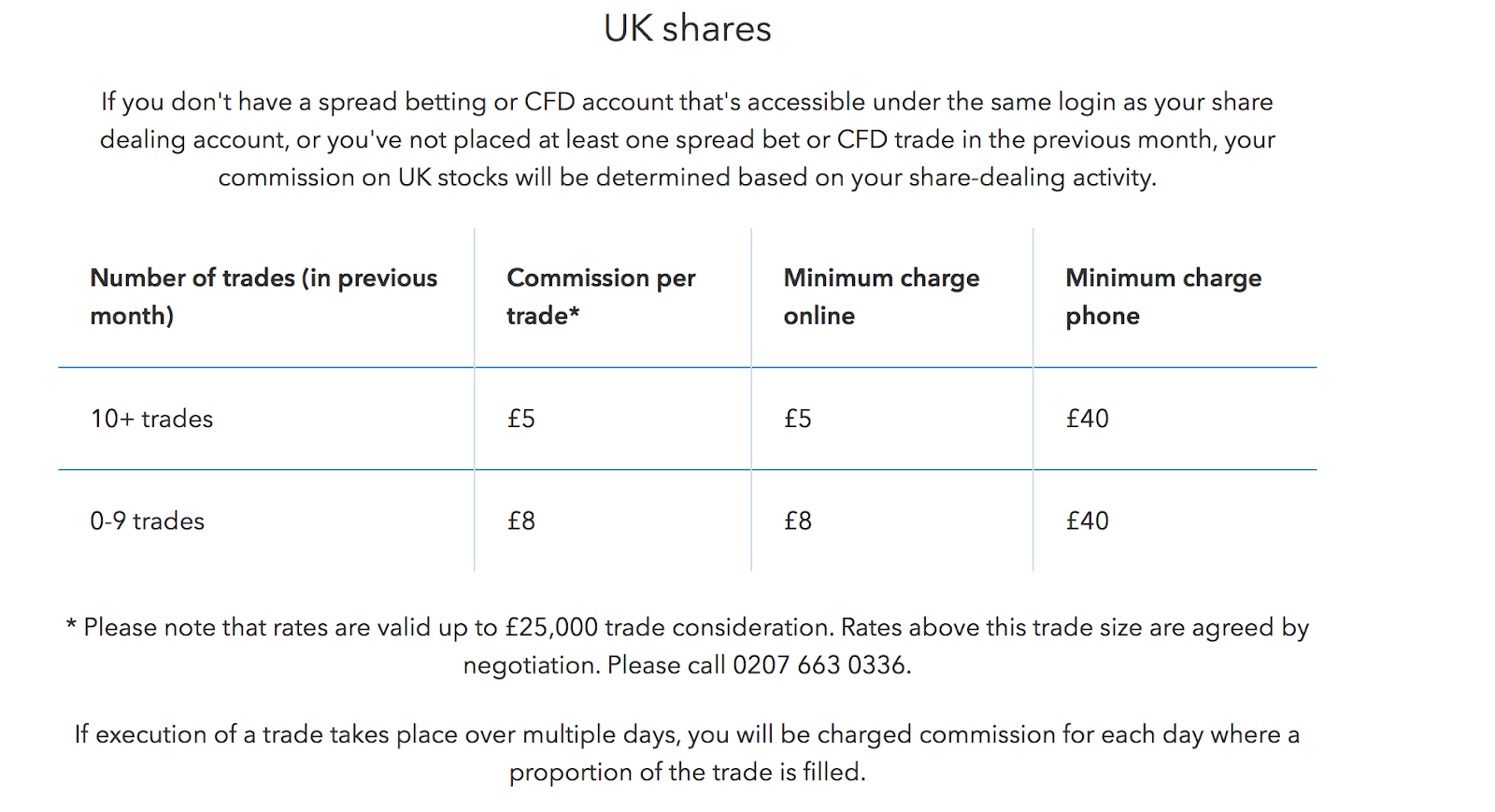 Below are commissions for international markets. Note that if you have the share dealing account linked to a CFD account your cost will be the lower option, 5 sterling, irrespective of how many trades you have conducted during the last month, given you have traded CFD or placed spread bets. For full reading on commissions please read the fees and commissions link.